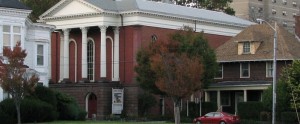 From its inception in the 19th century the Religious Society of Bell St Chapel – a Unitarian Universalist congregation in Providence's west end has been devoted to each persons free and responsible search for truth and meaning.  Below is another excerpt from a pamphelt published by the society in 1934.
NOT HOW NEW BUT HOW TRUE
Liberals in Religion do not reject any orthodox doctrine just because it is orthodox, because it is old.  Neither do they hasten to accept an idea just because it is new.
Not how old or how new, but how true – that is what they ask.  Their quarrel is not with the conservative or the radical as such but with the dogmatist.
The tested truths of the fathers and the tested truths of the moderns – between these there can be no contradiction, and the Liberal welcomes them both as essentials of his faith.
Whenever anybody finds out the truth about any subject, he makes an addition to Liberal doctrine.
The Bell Street Chapel invites you to its fellowship.  Its members do not agree to think alike but all alike agree to think, to exercise their reason and conscience in matters of faith, to follow the truth wheresoever it may lead them.
The principles of the liberal faith is set forth at
BELL STREET CHAPEL
Providence