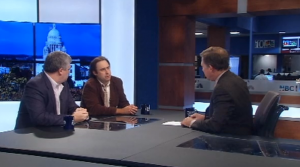 Andrew Morse, of Anchor Rising/Ocean State Current, and I square off for the full half hour on 10 News Conference. Moderator Bill Rappleye moderates us through a wide-ranging discussion on everything from guns permits in Exeter, hedge funds in pension investments to the 2014 governor's race.
News, Weather and Classifieds for Southern New England
Best part, in my opinion, is the last 30 seconds when Rapp asks me if I think Clay Pell will run for governor. "I hope not. I think that's the worst thing about American democracy that rich kids with famous last names can declare that they are running for government." Just to clarify, I actually love that anyone – rich or poor – can declare they are running for government or governor. What I hate is that it's easier for rich kids to do than poor kids.
A couple important corrections:
Of course we do know who gives significant political donations directly to Gina Raimondo. And there is no reason to suspect the Manhattan Institute would be among them.
Also, Ted Cruz is a Senator, so he doesn't have a district other than the great state of Texas.
Sorry readers, viewers, WJAR and marketplace of ideas.