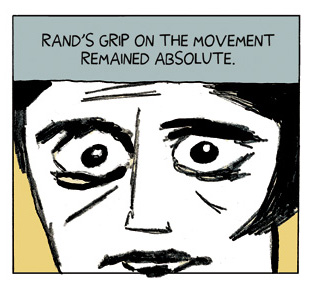 Few figures of the 20th Century are as polarizing as Ayn Rand, whose philosophy Objectivism, was outlined in her two most famous novels The Fountainhead and Atlas Shrugged. Objectivists are Libertarians on steroids, seemingly devoid of human compassion, yet many Christians and Catholics embrace Rand's moral absolutism, despite her elevation of selfishness to virtue.
Now graphic novelist Darryl Cunningham has released, for free, an extraordinary webcomic biography of Rand, which examines her philosophies through the lens of her biography. Cunningham sees Rand as a woman drowning in contradictions. Describing her ideal as "the concept of man as a heroic being, with his own happiness as the moral purpose of his life, with productive achievement as his noblest activity, and reason as his only absolute" she went on to surround her self with a cult like following of slavish devotees.
It would have been easy for Cunningham to simply skewer and lambast Rand and reduce her to a parody of John Galt or Howard Roark, the heroes of her novels, but Cunningham is more subtle than that. He uses a scalpel rather than an axe to dissect Rand's life and philosophies, rendering a portrait of Rand that will anger her devotees but humanize her somewhat in the eyes of her critics.
Check out some sample art and panels below and read the full 68 page comic here.