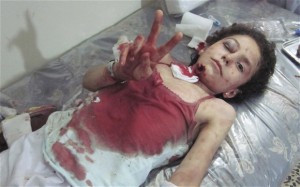 You have been given a rare opportunity in a time of crisis to thoughtfully direct the United States before military force has been applied. Since the Vietnam War, Presidents have usurped the responsibility of Congress to declare war. It is a welcome challenge that you face.
That the Assad government in Syria has crossed a line by using chemical weapons against its own population seems to be little in doubt.
If there was a clear and clean target—a weapons dump or a political assassination—that would erase the danger and the perpetrator, I suspect that the President would have moved ahead without seeking your advice and approval. Recent years have, as you know, demonstrated the uncertainty and indecisiveness of Congress in supporting this President.
Therefore the use of force will be symbolic, using our military power to spank the criminals who are brutally killing their own population.
But will dropping bombs demonstrate that deploying chemical weapons is wrong, or will it just replace an unauthorized weapon of mass destruction with its legally sanctioned cousin?
Furthermore, an almost unilateral response by the United States seems unlikely to do more than increase the damage both in the Middle East and back here. If there is one lesson that we could learn from the wars in Iraq and Afghanistan, it is that modern wars do not have clean and clear endings.
We have gotten into the habit of pitting our munitions and soldiers against repressive regimes and terrorist-supporting governments at great expense, loss of life, and with only partial success.
In the 21st century, military action with or without a clearly defined goal produces instability in the war zone, and redirects waves of terrorist resentment against all parties involved.
In short, the war machine will shift from Afghanistan to Syria. The terrorists will have more cannon fodder, the US will remain the enemy, and the eventual results we produce will be unstable and out of our hands.
The wars in Iraq and Afghanistan and the "war on terror" have cost us our children's education. They have cost us our roads. They have cost us our privacy. They have enticed our soldiers to torture and our government to renditions, assassination-like drone strikes, and imprisonments without trial.
Given the rock and the hard place, how shall you vote?
Congress is neither nimble enough nor designed to make foreign policy.
Congress does have the power to declare war. Or not. Despite the inclination for this Congress to actually accomplish something, doing is not always better than deliberately doing nothing.
You can demonstrate the power of representative democracy—not by abandoning an injured foreign population but by drawing limits against the use of power in the name of peace.
Sirs, as a voter, a citizen and an American, I ask you to vote against the unilateral use of military force in Syria.