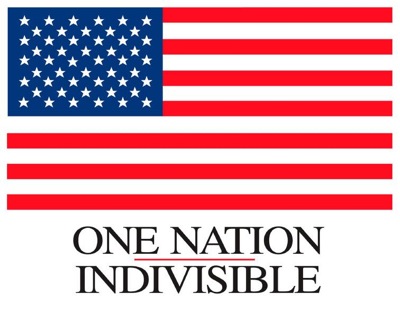 On Wednesday morning the Massachusetts Supreme Judicial Court will be hearing arguments in Doe vs. Acton-Boxborough Regional School District concerning the phrase "under God" in the Pledge of Allegiance. Unlike previous cases that have sought to challenge the wording on First Amendment grounds, this case is being argued under Massachusetts state law via equal protection and nondiscrimination statutes.
Simply put, insisting that every schoolchild recite the words "under God" discriminates against atheists, Humanists and other nonbelievers by defining patriotism in terms of religious beliefs. The current wording of the Pledge clearly discriminates against nonbelievers. The phrase "under God" was inserted into the Pledge during the height of the "Red Scare" in 1954 at the urging of the Knights of Columbus, rendering the Pledge virtually incomprehensible.
Think about it: As it currently stands, the Pledge presents a massive contradiction. Originally we were "one nation, indivisible" but after 1954 the nation was neatly divided into those who believe we are "under God" (real Americans) and those who do not believe (false Americans). It should be apparent to fair minded people that our nation cannot be both "under God" and "indivisible." Inserting the phrase neatly put the promises of the Pledge to a lie: Our nation was indivisible, until the phrase "under God" divided it.
The lawsuit is being brought by the American Humanist Association's Appignani Humanist Legal Center on behalf of the "Does," a family that has chosen to remain anonymous. Given the treatment of recent litigants in cases such as this in recent years (including the death threats against my niece, Jessica Ahlquist) one can see why this has become unfortunately necessary.
In avoiding the First Amendment, this new legal approach is modeled on the legal strategy that ultimately saw the legalization of gay marriage in Massachusetts in 2003, when the courts ruled that the marriage laws were discriminatory. A ruling in favor of the Does would have the effect of restoring the Pledge, in Massachusets only, to its pre-1954 status.
As David Niose, the attorney arguing the case said, "If the federal government decides to write a discriminatory Pledge, the Massachusetts Constitution nevertheless protects children in the Commonwealth from the discrimination that would occur from daily recitation of the Pledge in classrooms."
Those who are fighting to restore the Pledge are not radicals, they are conservatives. They are looking to restore this country to its original values, lost in the paranoia of McCarthyism and the Mutually Assured Destruction of the Atomic Age. In a moment of fear and weakness our country altered the Pledge of Allegiance, changed our National Motto and put "In God We Trust" on our money, forgetting that we are a secular nation committed to separation of church and state, and dedicated to freedom of conscience and freedom of, and freedom from religion.
Maybe now is the time we start to take our country back.
One nation indivisible: The Pledge on trial in Massachusetts

,