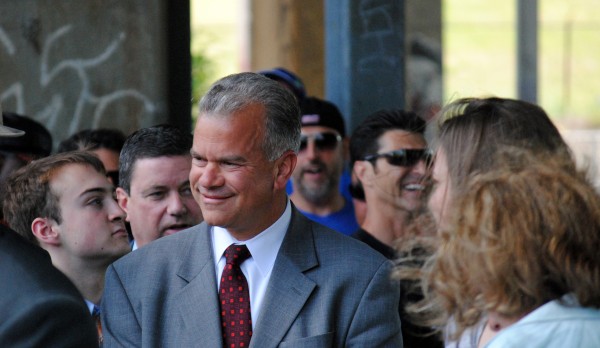 The prospect of Governor Gina Raimondo's Rhode Works legislation hitting the House floor before the end of this legislation is highly unlikely, Speaker Nicholas Mattiello said today.
"Right now, I'm not planning on it coming to the House floor by week's end," he said. "I have substantial concerns. I've indicated that the House is not going to act upon this bill until the concerns of our local business community are adequately addressed."
Speaker Mattiello also said that he believes the proposal requires more analysis, so he is not comfortable introducing it in the House quite yet.
"It's a big proposal, a big project, and I think the calls for it to move forward thoughtfully are probably the right calls and the right way to approach this. There's no reason to rush this, there are reasons to do it in a timely manner, but there's absolutely no reason to rush it," he said.
This announcement comes a day after the Park Avenue bridge in Cranston was closed by RIDOT due to safety concerns. The bridge was suffering from severe deterioration and was "in imminent danger of collapse," RIDOT Director Peter Alviti said in a letter to the Governor.
Speaker Mattiello finds the closure curious considering the bridge was examined nine months ago, and was deemed structurally deficient, but safe for travel.
"Where I call for an investigation is, you have the DOT making an assessment that it requires a high degree of corrective action in order to stay open, and no action is taken for nine months," he said. His main concern is that Cranstonians, and especially safety vehicles, are now incredibly inconvenienced, because no steps were taken to prevent the closure.
"If they knew nine months ago that it was going to require a high priority of corrective action, why wasn't any corrective action taken? That is something an investigation by DOT, I'd like to know what they're doing." he said.
Speaker Mattiello added that DOT is at fault for the closure, as they did not do what they are called to do for the community.
"You can't just let a bridge go to the point of failure and say 'Sorry, we're shutting it down because we failed.' That's what they're doing. They didn't ask for anything, they didn't tell us they had any concern."
However, the Speaker did note that he agrees with RIDOT's decision, but wishes that they take corrective action to have the bridge open back up as soon as possible.
Currently, there are nine bridges throughout the state undergoing investigations, and 17 that have been completed through RIDOT's accelerated inspection program, which Alviti ordered in early May.
The timing of the closure did not work in Rhode Works' favor. Minutes after the bridge was closed, Senate Finance unanimously approved the bill, and later that night it was approved on the Senate floor in a 33-4 vote. If the closure was a stunt to get Mattiello's attention, he was not impressed.
"I can tell you it's not going to force my hand on Rhode Works," he said. "That's not the right way to get my attention."