There are disturbing reports from Tolman High School students in Pawtucket concerning the behavior of police officers during yesterday's mass arrest of eight student and two adult protesters.
One protester, said a student, was "arrested for flipping off the cops," a constitutionally protected form of speech.
Another student who has "really bad asthma" was suffering an asthma attack after being hit with pepper spray. The student was told by police officers that she could "go to the hospital and get arrested, or you can stay here," according to witnesses.
The protest outside the school Thursday morning was happening without a lot of the students inside the school being aware of what was happening. After a fire alarm was pulled, (for which a student was arrested) students flooded outside.
"Pulling the alarm was a good idea," said a student, "No one knew what was going on until we all came out."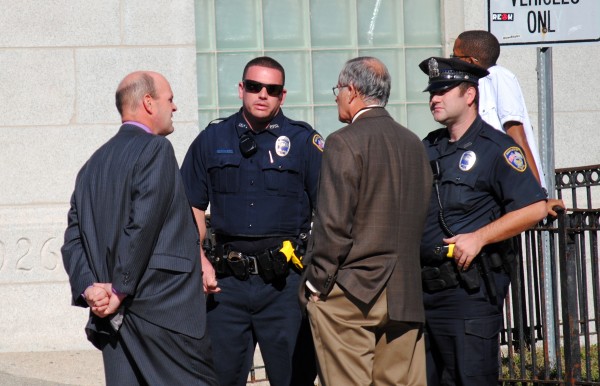 Students involved in the protest were told that they were not allowed to have cellphones on their person while in school that day. "They didn't want us communicating with people outside," said the student.
Some students who refused to turn in their cellphones were refused readmission to the school, yet students feel the cellphones are necessary to protect themselves. After all, it was a cellphone video of a violent police arrest that sparked these incidents.
There was also some pushback against the mediation offered by the Institute for the Study and Practice of Nonviolence. Some students feel that the Institute street workers are more interested in "telling us to go back to class" than in addressing the root causes of the problem, which they see as the presence of police in the schools.
Some students want school resource officer Jared Boudreault removed from the school and fired from the Pawtucket Police Department for his actions. But more than that, they want police entirely out of schools. Instead of policing and suppression, some students say they want respect and the help of adults who are able to deescalate situations.
Meanwhile, representatives from several community and social justice groups are decrying the events of the last two days as evidence of the school to prison pipeline. The RI ACLU has repeatedly shown that across Rhode Island, "black [and Latino] children face unwarranted racial disparities in their earliest years, with long lasting consequences. The disparities begin in the classroom, and  at  a  very  early  age."
"I really think it has to do with race," said a Tolman student. She was speaking from her own experiences in high school and not quoting from a report.
Tolman students report disturbing police behavior

,