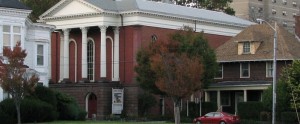 Theodore Parker, an abolitionist, feminist and radical Unitarian preacher in Boston in the 1840s, wrote a famous (and for its time) controversial sermon, "A Discourse on the Transient and Permanent in Christianity." Basically, he argued that even if Jesus was not found to not be divine, his ethical precepts – "Do unto others as you would have them do unto you" – are true, worthy guideposts for a healthy, balanced, justice seeking life.
The discussion over what is dust in the wind (transient) and a given of humanity (permanent) has been ongoing in many faith traditions. Among Unitarians  and Universalists, member congregations have tried to create a big-umbrella of beliefs – a common set of ethics, and multiple ways of arriving at those ethics. Yet, even our most agreed upon common principles adapt over time, based on democratic input and reflection.
Unitarians were once a persecuted group in Eastern Europe, and Universalists turned traditional Calvinism on its head- saying God so loved the world, none would forever burn in heaven. Unitarians came to be found in New England, India, the Midwest, Jamaica, the United Kingdom, and Hungary, among other places. Universalists spread from New Jersey across the US, eventually partnering with churches in Japan.
In 1961,  Unitarian and Universalist congregations in the US and Canada promised to unite in seeking …
1. To strengthen one another in a free and disciplined search for truth as the foundation of our religious fellowship;
2. To cherish and spread the universal truths taught by the great prophets and teachers of humanity in every age and tradition, immemorially summarized in the Judeo-Christian heritage as love to God and love to man;
3. To affirm, defend and promote the supreme worth of every human personality, the dignity of man, and the use of the democratic method in human relationships;
4. To implement our vision of one world by striving for a world community founded on ideals of brotherhood, justice and peace;
5. To serve the needs of member churches and fellowships, to organize new churches and fellowships, and to extend and strengthen liberal religion;
6. To encourage cooperation with men of good will in every land.
As of the latest revisions, Unitarian and Universalists congregations affirm the following principles …
1.The inherent worth and dignity of every person;
2. Justice, equity and compassion in human relations;
3. Acceptance of one another and encouragement to spiritual growth in our congregations;
4. A free and responsible search for truth and meaning;
5. The right of conscience and the use of the democratic process within our congregations and in society at large;
6. The goal of world community with peace, liberty, and justice for all;
7. Respect for the interdependent web of all existence of which we are a part.
Reflecting on what is transient and permanent can help us to consider what to hold on to, and what to let go, in our daily struggle to live and be together in community.