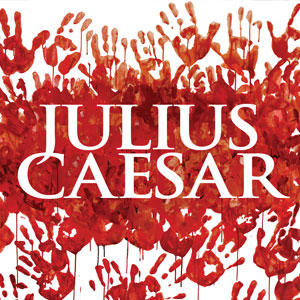 A triumphant female politician, returning from a recent major victory, enters the city to mass adulation, eliciting both respect and anger from her male contemporaries in the halls of power. Is this the latest episode in the Clinton saga or a slice of life in the Raimondo administration? No, it's Trinity Rep's latest staging of Shakespeare's JULIUS CAESAR, directed by Tyler Dobrowsky and now playing through October 11 in Providence.
This show was simply a fantastic offering that was worth every minute. Like several other recent renditions of The Bard's work, this piece is set in contemporary times and features costuming that seems like it just walked off Smith Hill.
The play opens with a scene ripped right from the headlines. The Cobbler and Carpenter walk the streets and cover the walls with posters of the victorious Caesar that resembles Shepard Fairey's HOPE poster for Barack Obama. When the Flavius and Marullus stop them with the opening lines of the play, they are truncheon-carrying police officers in full combat gear that interrogate the commoners by throwing them on the ground and pinning them, staging that is hauntingly reminiscent of police brutality that led to the death of Eric Garner. The famed Soothsayer that bids Caesar "Beware the Ides of March" has become a mentally ill homeless man that intones his lines in a Gollum-like snarl.
Anne Scurria plays the title role in a gender-bending change that brought out new motifs in the play never seen before. She is powerful, cunning, and knows how to maintain control of her grip on power. The hubris that leads to her death is a tenable and real emotion that is not uncommon in our own political world these days. The fear and loathing of her growing power expressed by Cassius and others takes on a misogynist tone that is both disturbing and familiar. When Brutus conspiratorially speaks of Caesar's "falling sickness," it is in a tone strangely akin to whispered conspiracy theories about Obama being a secret Muslim or perhaps recent comments about a woman president having PMS.
Brutus, played by Stephen Thorne, is a compelling and fascinating character. By nature, he is a loyal and civically-engaged citizen, looking to create a better world for the next generation. His angst about the plot to halt Caesar's ascent is able to be expressed without being hammy or overwrought, a tough balance in some situations. Cassius, played by Brian McEleney, is a crafty tactician looking to not only restore the balance to Roman governance, he wants to cement his own hold on affairs. My only wish for this character is that he might have included a bit more of the subtle homoeroticism that has always intrigued me when reading his lines. Casca, played by Fred Sullivan, Jr., is a not-so-closeted political gadfly, the ultimate wheeler-dealer with his own agenda. Special mention should also be given to Barbara Meek's performance as Cicero, the elder stateswoman who is dignified and reserved, horrified by the violence of assassination yet able to continue on with the duties of state.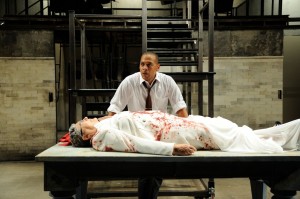 Joe Wilson, Jr. plays Marc Antony in a performance that is something special. A well-spoken, younger black politician playing against an elder white woman brought to my mind the complex relationship that has defined how Obama and Hillary Clinton interact. This is a great achievement that shows promise for a young actor. His ability to emote and speak regally is a great asset Trinity should utilize often in future plays.
I thought that this play was well-staged, mixing audio-visual elements such as mock newscasts projected on the walls and live action camera people shooting angles on speeches being delivered at that very moment. The designers know how to play with this kind of inter-textuality and create a motif that keys in to how removed we as outsiders are from the political process. In the lobby outside the theater, there are posters featuring news headlines that play on popular internet sites like The Onion or Fox News, a great touch. My only qualm was with the insistence on using knives and swords, when Baz Luhrman adapted ROMEO AND JULIET in the 1990's, he created a line of firearms called 'Sword' and 'Blade' that made things seem less anachronistic. It also might have been interesting to see the Battle of Phillipi set in the historic Levant and making reference to the American Empire's expansion. Yet these are just minor critiques as compared to the overwhelming success.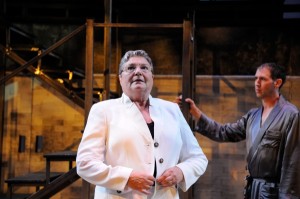 I had the opportunity to sit down and talk with the show's star, Annie Scurria, about a wide range of topics, including contemporary politics, feminism, and various ideological strains, which I post below.