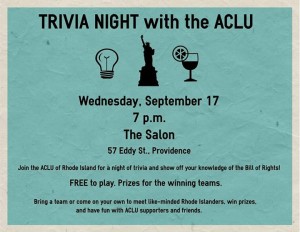 This Wednesday marks the 227th anniversary of the signing of the U.S. Constitution by 39 delegates of U.S. Constitutional Convention and the American Civil Liberties Union of Rhode Island is celebrating with a trivia night for civil libertarians.
Test your knowledge of the Bill of Rights by joining us Wednesday, September 17, at The Salon in Providence at 7 p.m. for a night of friendly competition featuring general knowledge, civil liberties, and Rhode Island trivia. Even if you don't think you'll take home the top prize, this is a great opportunity to meet fellow Rhode Islanders who share your interests.
It's free to play and open to everybody 21 or older so bring a team of friends or come on your own.
Here are the details:
Trivia Night with the ACLU
Wednesday, September 17, at 7 p.m.
The Salon, 57 Eddy St in Downtown Providence
Free to play. 21+.
I hope to see you there!