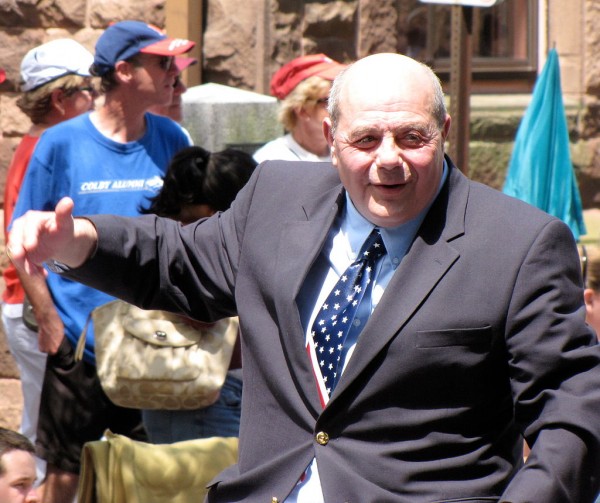 How does a person who has twice embarrassed the great city of Providence by losing their job as mayor due to felony convictions convince people to give them a third chance to screw over the city? First, such a person must hold such a low opinion of the voting public that they seriously think of themselves as a viable candidate. Second, the candidate must then do everything they can to paint their opponent as something worse than someone who has twice been caught violating the public's trust.
Vincent Cianci has attempted to solve this unique problem by branding his opponent, Jorge Elorza, as an atheist eager to impose his disbelief in God on unsuspecting children in our public schools. In a robocall delivered to those Providence area homes that still have landlines, listeners were given the following false choice:
Buddy Cianci believes that there needs to be a separation of church and state and teaching about God's existence, or non-existence, has no place in our public schools. Who do you agree with? Press "1" if you agree with Cianci that teaching about God's existence or non-existence, does not belong in schools. Press "2" if you agree with Jorge Elorza that it would be acceptable to teach in schools that there is no God.
Cianci's robocall is referencing a paper from 2010 in which Elorza speculates on the limits of secularity in public schools. In this paper, Elorza is careful to outline three different ways in which to understand God, theist, deist and memist. At the end of his paper Elorza concludes that schools could theoretically teach that the theist God does not exist, but that the deist and memist Gods would be constitutionally protected. Says Elorza,
Deism allows for individuals to search for answers to the transcendental and ultimate questions of life. And memism allows for people to live according to any particular moral code and to worship God as they see fit. The core features that give religion its special significance in people's lives remain entirely intact.
Elorza's paper was a philosophical and legalistic think piece, not a policy paper for the advancement of atheist ideals. Nowhere in this paper does Elorza seek to oppose the protections of the First Amendment or violate the tenet of separation of church and state. Cianci's robocall is a crass attempt to divide people on religious grounds, playing on our prejudices and fears.
On this site, I speculated, in response to Elorza's paper, that Elorza might be an atheist, and I chided the candidate for unfairly characterizing his paper as a defense against "angry atheists" during a debate with Michael Solomon on Channel 12. Elorza may or not be an atheist. Cianci may or may not be a Catholic. In truth, the religious beliefs of the candidates do not matter. What matters is character, and an assessment of the previous actions of the candidates as pertains to how they may perform in the future.
By this measure, Cianci is the clear loser. Twice convicted of serious crimes performed while in office, Cianci has twice demonstrated his inability to lead this city. His candidacy for a third go at the job is an insult to the voters of Providence, and his robocall demonstrates the depths of his dishonesty.
Jorge Elorza is the clear choice for mayor of Providence.