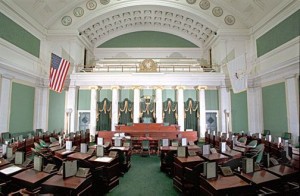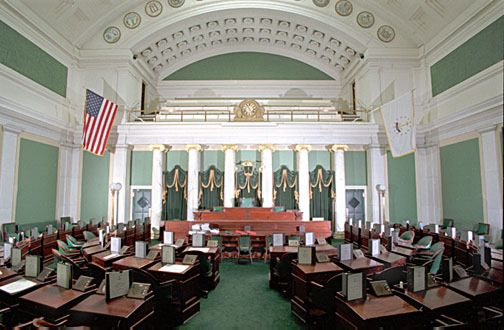 Forget about a marriage equality bill making it out of the Senate this session, such legislation hasn't even been heard in committee this year. It was introduced on February 16, but still hasn't received its customary hearing.
"I think you know what my position is on this," said Sen. Michael McCafffrey, a Warwick Democrat, when asked for his position on marriage equality. It is well-known that McCaffrey, the chairman of the Judiciary Committee, doesn't support the bill.
The next hurdle is that several other Democrats on the Judiciary Committee don't love it either. Sen Harold Metts is on record as not supporting it, and Sen. Paul Jabour, a Democrat who represents Federal Hill and the West Side, told me he "still prefers civil unions."
Jabour said he's still weighing whether or not to support actual marriage equality.
Sen. William Walaska, a conservative Democrat from Warwick who is also on the Judiciary Committee, wasn't tipping his hand, saying, "You're asking me about a vote that isn't on the floor yet. I'd have to look at the legislation."
Even Sen. Erin Lynch, a Warwick Democrat who co-sponsored such a bill last year, wouldn't fully commit this year, saying she supports marriage equality in theory but that "it depends on the language of the bill."
Outside of the committee, there are a number of Democrats who don't support marriage equality, including Sens. Dominick Ruggerio, the majority leader, from North Providence, Frank Ciccone, of Providence and Louis DiPalma, of Middletown.
Ciccone said he will submit a bill soon that would reverse Gov. Chafee's executive order that recognizes same sex marriages performed in other states. "I think the governor exceeded his authority," he said, noting a recent court case before the state Supreme Court. "I don't think an executive order can supersede a Supreme Court decision."
Of course, there's also Senate President Teresa Paiva Weed, who wouldn't even answer my questions last night at the State House.
By the way, I think every Senator I just mentioned is Catholic (I'm not sure about Metts or Lynch). And, it's worth noting, there is no shortage of GOP support for marriage equality in the chamber. Sens. Christopher Ottiano, a Portsmouth Republican, and Dawson Hodgson, a socially-liberal Republican who represents East Greenwich and North Kingstown, would support marriage equality if it came to a floor vote. Nick Kettle, of Coventry, said he likely would too, but only after taking the pulse of his constituents.
"Probably two handfuls," is the way Sen. DiPalma described it to me when I asked him about the opposition to marriage equality in the Senate. Based on my very informal whip count, that sounds about right. The President, the entire congressional delegation, the governor and the House all would support marriage equality in Rhode Island. But "probably two handfuls" of Catholic state Senators still stand in the way.