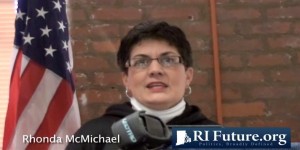 Representative David Cicilline held a press conference this weekend calling out a "Republican-led Congress" that skipped town for the holidays leaving 1.3 million Americans without desperately needed unemployment insurance.
He also asked three Rhode Islanders to tell their stories.
Rhonda McMichael is 54 years old, and she has lived in Rhode Island and worked all her life. She "never asked for a penny" while she was raising her two children, because she always felt there was someone else who needed the money more.
"So," she says, "I went and got two or three jobs…"
McMichael has exhausted her 401K, and as a breast cancer survivor without unemployment benefits, she can't afford her medications.
She later added, "Because I'm in this situation, I have to now start applying for food assistance, housing assistance, my health care is going to end on the first of the year so what do I do?"
UI funding crisis: 'I wouldn't have reached out if I wasn't in desperate need...'

,