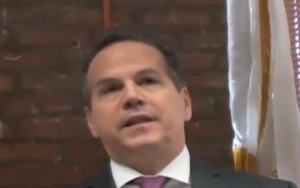 Rhode Island's congressional delegation had a busy weekend working to restore extended unemployment benefits. Senator Jack Reed, a co-sponsor of the benefit now expired that helps 1.3 million out-of-work Americans, spoke with President Obama who offered his support, tweeted Reed.
And on the House side, Representative David Cicilline held a press event to offer tough words for the Republicans who skipped town while more than a million Americans economic lifelines hang in the balance. He also gave a public voice to a few of the 5,000 directly affected Rhode Islanders.
Cicilline's statement is here, and we'll be posting video of the people affected telling their own stories in subsequent posts.
The day the Republican-led Congress skipped town for the holidays it left behind 1.3 million Americans who rely upon this assistance to survive as they continue to look for work. Nearly 5,000 Rhode Islanders who have already exhausted their state benefits and are now without their last safety net.

I'm not giving up this fight until we renew emergency unemployment benefits for people struggling to find work.  We can't turn our back on more than a million Americans, especially in Rhode Island where our unemployment rate is the highest in the nation.
UI funding crisis: Reed, Cicilline fight to restore unemployment benefits

,