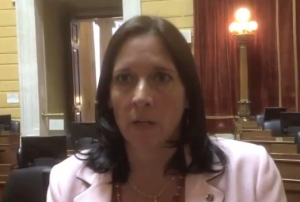 Rep. Karen MacBeth's ultrasound bill has already made a lot of noise in the media – including a condemnation by Nick Kristof of the New York Times – and today the House Judiciary Committee takes up the proposal. And if Committee Chairwoman Edith Ajello is any indication, legislators won't be any kinder than has the media.
"I think it's intrusive and unnecessary," said Rep. Ajello, D- Providence. "We have already in law what has to happen in the procedure of an abortion including a doctor or medical staff talking with the patient … about making sure that there are alternatives to having an abortion. It really has nothing to do with medicine."
Susan Lloyd Yolen, of Planned Parenthood, plans to testify that MacBeth's interest in the bill are moral rather than medical.
"It is not lost on us that the sponsors of this bill are well known as opponents of abortion," according to a draft of her prepared remarks. "The intent of this legislation is to dissuade women from choosing abortion by requiring them to listen to a description of the image of the developing fetus, even if she has chosen not to view it."
MacBeth's bill would require that doctors do an ultrasound on a woman before performing an abortion, and then describe the fetus to her. Doctors would be fined $100,000 for not doing so, and $250,000 for a second offense.
In this video, she talks about why she thinks it's important to fine doctors.
Ultrasound Bill Gets State House Vetting Today

,