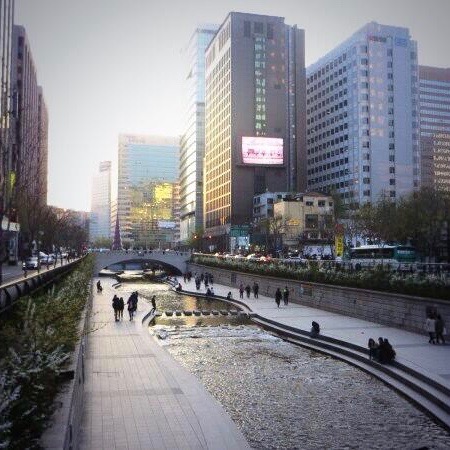 Mayor Jorge Elorza appeared with his team from Providence Planning to present a draft proposal for the 6/10 Connector Monday night. The plan took the form of a parkway.
The looming context of the meeting was Governor Gina Raimondo's September 7th announcement to rebuild the highway as-is. Though the bridges in question remain open to car and truck traffic, Gov. Raimondo and Rhode Island Department of Transportation Director Peter Alviti have maintained that the condition of the bridges creates an emergency situation in which the planning process must be severely curtailed. On the 7th, Director Alviti stated that the surface boulevard was "dead". [It seems like this would be well known, but for full disclosure, that boulevard proposal came through the group Moving Together Providence, of which I am one founding member].
If there had been any hopes that the City of Providence would reignite the boulevard proposal, it did not happen Monday. The parkway plan honed very close to the design of a highway. The city's plan made a number of changes to the RIDOT proposal that improved neighborhood connectivity through biking and walking access.
I'm going to take off my objective journalist hat and comment on some things I liked and did not like, as well as some things I continue to have questions about, as we move forward.
Good: Reclaiming Land
While the parkway continues to take up an extraordinary 240' of width, the city's plan nonetheless reduces the footprint in places to half of what the highway would be. This has allowed the city to claim fifty of the seventy acres originally expected to be developable under the surface boulevard proposal.
The Providence proposal reclaims significant land in Olneyville, with a phase two proposal to extend DePasquale Square into about half of the 13 acres of Federal Hill that were lost to the Dean Street exit/entrance ramps.
Good: Creating new connections for Smaller Streets like Magnolia and Tobey
As a former resident of Tobey Street, one of my favorite proposals was changing the Tobey Street on-ramp into a bridge connecting Federal Hill to Olneyville. Street grid connections like this are a good idea.
Bad: Continued Use of Traffic Pseudo-Science
Traffic engineers who are in any way honest understand that it does not make sense to do traffic counts on a road and then plan capacity for that roadway accordingly. Numerous highways have been removed and seen a significant part of the traffic that uses those highways disappear, and this is such a common occurrence that it is now a routine understanding. Given the political context of pressure from RIDOT to reify traffic counts, the City of Providence Planning Department did the logical thing, which was to base its various proposals on projections about how many cars would be on 6/10. This is going to make many of the otherwise reasonable proposals less livable. It's a shame to see the boulevard proposal die on the western half of the roadway that inspired Cheonggyecheon.
Good: Preserved Space for Enhanced Amtrak and MBTA Upgrades
While Amtrak continues to look into whether to reorient the highly-traveled Northeast Corridor through Worcester instead of Providence, the Planning Department's proposal to keep land open for enhanced rail travel is an important part of the economic and quality-of-life picture.
Bad: Stroad Design for Connecting Streets
The images used for connecting streets were four lane roads with anemic looking bike lanes alongside them. Urban streets should be two lanes, with even the most traffic-oriented streets getting two lanes with a turn lane. The bike lanes put in these proposals are anemically narrow (Dutch infrastructure goes for 4 meters to allow bikes to pass one another) and is without separation. These streets need a road diet.
Bad: Bait-and-Switch on the Roundabout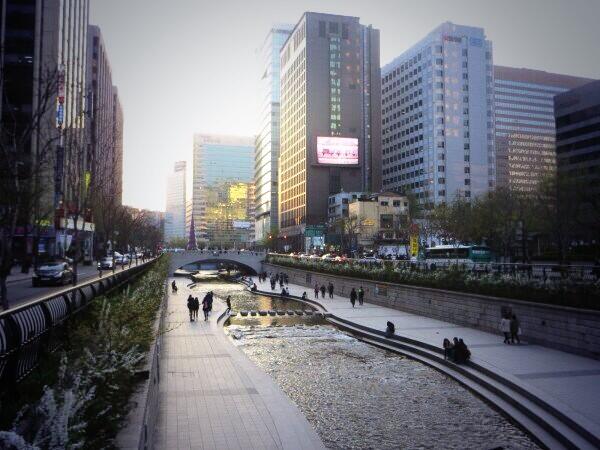 The Providence Planning proposal made use of a widely circulated image of a raised roundabout in the Netherlands, which serves bicycles crossing a Dutch highway. Problematically, this image was intended to go besides a proposal for a raised car roundabout to connect Routes 6 East and West and Route 10.
Roundabouts are not inherently a bad idea, but the use of this Dutch image is misleading. (Surface) roundabouts are an economical and safe way to connect roads that are high volume. (Would a raised roundabout that of course has many structures holding it up be cost-effective? That remains to be seen). They cost less than signalized intersections and usually allow more steady flow of traffic, causing them to be the default treatment in some states. Smaller roundabouts like the one carried out in Poynton, UK can be used in such a way as to create more pedestrian friendly areas while moving a surprisingly large number of vehicles. Larger roundabouts like those seen on Parisian boulevards can also carry a lot of traffic, but are being greatly curtailed as Paris attempts to revitalize the pedestrian connections around its major squares.  Dutch bike design takes pedestrian and bike crossings away from roundabouts, while using them as a connection for cars.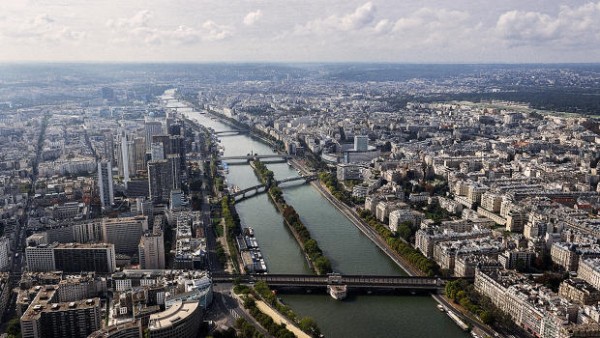 In short, the roundabout should be understood as what it is: part of the parkway (which is really just a word for a scenic highway). The other connections need to put bike, pedestrians, and transit in the forefront.
Bad: No Real RIPTA Vision
While Providence Planning presented its efforts to remove cars from Olneyville Square via the raised roundabout as a way of improving through-flow of RIPTA buses, this follows the same induced demand logic that other traffic congestion schemes follow. Making a more direct connection between 10 N and 6 W will definitely take cars out of Olneyville immediately, but the pattern is that within a very short time traffic will fill that space and find equilibrium. So plans to create transit improvements need to acknowledge that. One way to improve transit-flow and make Olneyville more business friendly would be to disallow car through-traffic (allowing cars to visit and park at the edge, but pedestrianizing the center of the square is an idea that has its origins with Jef Nickerson of GCPVD). Having designated areas of the square for bus travel would then allow for better transit flow, though Providence Planning should be cognizant of the dos and don'ts about pedestrian spaces.
There also should be Bus Rapid Transit on the boulevard itself. I've pointed out in the past that while BRT does have some costs associated with it, a lot of the biggest costs going along with the RIDOT BRT proposal were added lanes for the BRT, and skyway bridges to connect pedestrians to center stations on a highway. A parkway continues to be a road designed with high speeds in mind, and I'm not certain how BRT could be best handled on a roadway like this, but I think it should be explored.
Getting Mugged by RIDOT
Two television stations and two newspapers asked me what I thought of the plan, and I compared it to a mugging. The Rhode Island Department of Transportation has very transparently used safety concerns about the Huntington Bridge to torpedo normal rules of process for deciding what to do with the highway. Essentially, Providence Planning has its back against the wall, and RIDOT is saying, "Your money, or your life?" Given that very limiting context, what Providence produced was a reasonable compromise that I can live with, in the same way that I accept other unpleasant realities forced upon me. I think the plan is leaps and bounds ahead of RIDOT's proposal, but that's not setting a high bar.
Up Against a Wall with 6/10

,