During a Woonsocket City Council meeting Monday evening it was revealed that the City of Woonsocket is in some kind of negotiations with Invenergy regarding its proposed $700 million fracked gas and diesel oil burning power plant. When the question was brought up, City Solicitor Michael Marcello answered only that the city council had been briefed in closed session and would not directly answer the question. As to the question of a power plant being built in the city, Marcello gave a direct answer: No.
City Councillor Daniel Gendron put an item on the city council's agenda because of the number of calls he had received based on the rumors that such a deal was in the works. He also said that he prepared his question carefully, "so that I could read the question and give the administration [of Mayor Lisa Baldelli-Hunt] the opportunity to answer that question definitively. So what I would like to ask, and I'm asking this of the administration and of my fellow councilors, but specifically the administration. I was hoping the Mayor would be here to respond but, in her absence, somebody in the administration could answer."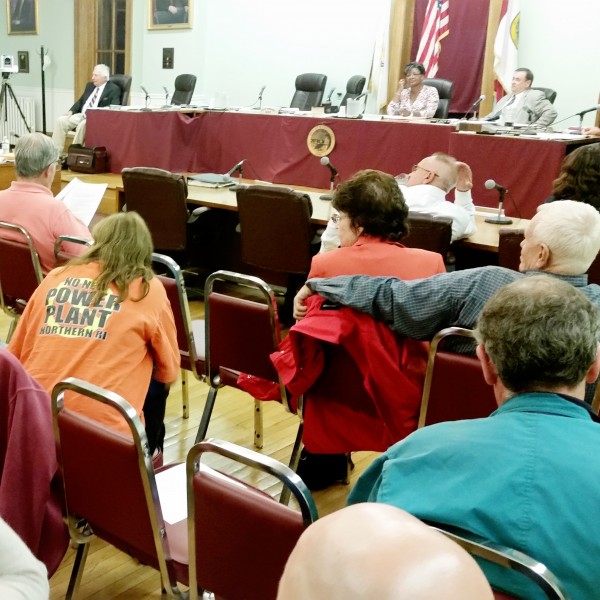 Gendron asked two questions. The first concerned rumors that Invenergy was in negotiations to locate the power plant in Woonsocket, as an alternative to locating the plant in Burrillville, where there has been fierce local and statewide opposition. The second concerned the possible sale of water to Invenergy, for the plant planned for Burrillville.
"My question is a simple question," said Gendron, "Has the administration had any discussion or communication with Invenergy or anyone else with respect to either siting a power plant in the city or about acquiring water from the city to be used in connection with a power plant?"
Council President Robert Moreau suggested City Solicitor Michael Marcello answer the question. Gendron repeated once more that he was going to address it to the mayor, but would be satisfied with an answer from Marcello.
"Councilor," answered Marcello, "as you know you are a member of the council and you were briefed by the administration in closed session." The closed session Marcello refered to took place at 5:30pm, shortly before the 7pm city council meeting. "The reason that we have a closed session," said Marcello, "is to keep communication closed until such time as the law requires us to disclose it. I will say that emphatically, that there have been no discussions with the administration, that we're aware of, that I'm aware of, to relocate the power plant within the City of Woonsocket.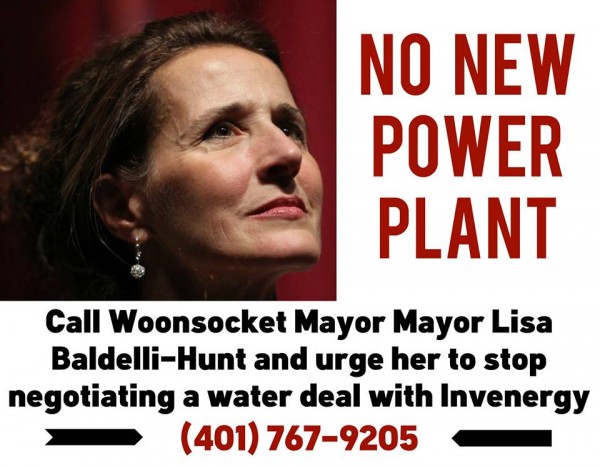 "But with regard to your second question," said Marcello, "you received a briefing in closed session, and that's where that information must lay right now. In closed session."
To the residents of Burrillville who had filled the city council chambers, this was confirmation of weeks of rumors.
"At the direction of our council I will not taint the sanctity, if you will, of the executive session meeting and I will not pursue this any further at your direction Mr. Marcello," said Gendron.
"In summary," said Council President Moreau, "that was pretty much what you're going to hear about it tonight from this council because we had an executive session and the City Solicitor explained that we need to abide by that forum."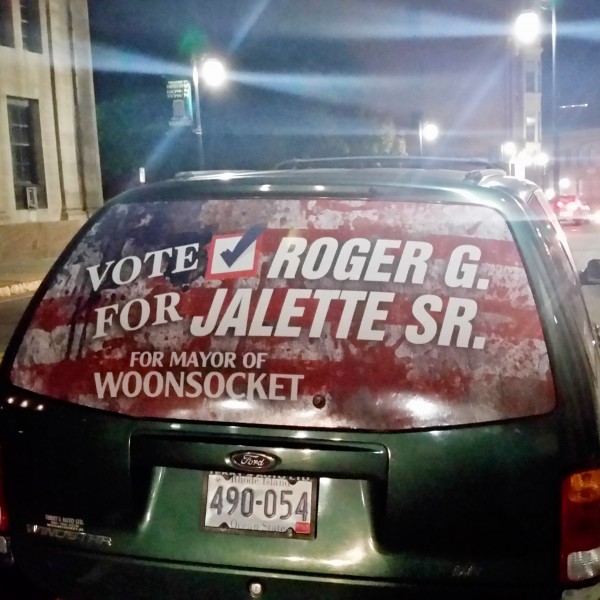 "I put this item on the agenda tonight," said Gendron, "for discussion purposes… that is what precipitated the executive session that took place prior to this meeting." The item was "an effort to bring out the truth," said Gendron. "I think that we needed to start this talk, we needed to squelch some of the rumors." The solicitor denied completely that there was a power plant coming to Woonsocket, said Gendron. Before today, "none of [the city council] knew what was going on, and that was the benefit of the executive session."
To the dozens of Burrillville residents and anti-fossil fuel activists from around the state, the city council meeting confirmed the existence of the "third option" ominously hinted at by Attorney Richard Sinapi at a meeting of the Harrisville Fire District and Water Board back in August. At that time Harrisville voted not to sell water to Invenergy, and it was known at that time that Pascoag was also going to vote against selling the power plant water.
Rumors had been swirling for weeks that Woonsocket was in negotiations with Invenergy regarding water. RI Future had put in an Access to Public Records Act request with the city on September 23rd regarding this issue. BASE (Burrillville Against Spectra Expansion), took to Facebook to ask people to call the office of Mayor Lisa Baldelli-Hunt "and urge her to stop negotiating a water deal with Invenergy."
The time frame on any potential deal between Invenergy and Woonsocket is difficult to determine. Yesterday Invenergy was given ten days to prepare for a "show cause" hearing with the Energy Facilities Siting Board (EFSB). EFSB board member Janet Coit, who noted that Invenergy lacks a water plan said that, "from the perspective of the board, we have a big gap." As part of the show cause hearing, Invenergy will have to submit their new water plan. Though Councillor Roger Jalette, (who is running for Mayor of Woonsocket) said that Invenergy might be making their case before a new city council after the elections in four weeks, Invenergy might not have that much time to wait until after an election.
There was also the hint that this issue may have implications for Woonsocket's mayoral race between Jalette and Baldelli-Hunt, as Jalette said he is sympathetic to Burrillville's cause.
During the public commentary period, the Woonsocket City Council was given a taste of what the Burrillville Town Council has been experiencing for nearly a year, that is, speaker after speaker objecting to new fossil fuel infrastructure being built in our state at a time when climate change threatens us all. "We don't want it in our backyard," said Ray Trinque of Burrillville, "and we don't want it in your backyard and we don't want it in anyone's backyard…"
Burrillville resident Denise Potvin was born in Woonsocket and has family there still. Potvin said that Alan Shoer of Adler Pollock & Sheehan, one of Invenergy's attorneys, "conveniently happens to be an attorney for the City of Woonsocket's water department." She mentioned that attorney Richard Sinapi is an attorney for Harrisville and large labor union with an interest in seeing the power plant built. "A lot happens behind the curtain," said Potvin. She ended by suggesting the council educate itself by reading articles like this one on RI Future.
City Council Vice President Albert Brien interrupted public testimony and explained that right now, there was no proposal before the council.
Councillor Roger Jalette is leaving the city council as he runs against Lisa Baldelli-Hunt for Mayor of Woonsocket. "I want you to know that I am very very sensitive to your plight," said Jalette. Jalette warned that there will be a new city council in four weeks, after the election, as neither he nor Council President Moreau will be on the council.
Burillville resident Jeremy Bailey pointed out that City Solicitor Michael Marcello is also a Ste Representative. Rep Marcello voted against a bill in May that would have allowed Burrillville residents to vote on any proposed tax treaty the town made with Invenergy. Rep Marcello was one of two representatives to attend the Northern Rhode Island Chamber of Commerce's Eggs & Issues Breakfast Thursday morning where Invenergy's director of development John Niland was the guest speaker.
Burrillville residents speak at Woonsocket City Council meeting to prevent water sale to Invenergy

,