This marks the fifth year since Andrew Winters was disappeared from URI. Yiddish scores much higher on the scale of colorful curses than American English and, growing up, I occasionally heard the curse "yemach shemoy—may his name be erased!" That is exactly what happened to Andrew Winters at URI:  his name and memory have been obliterated. Meanwhile, state leadership have circled their wagons and restorative justice remains sorely absent.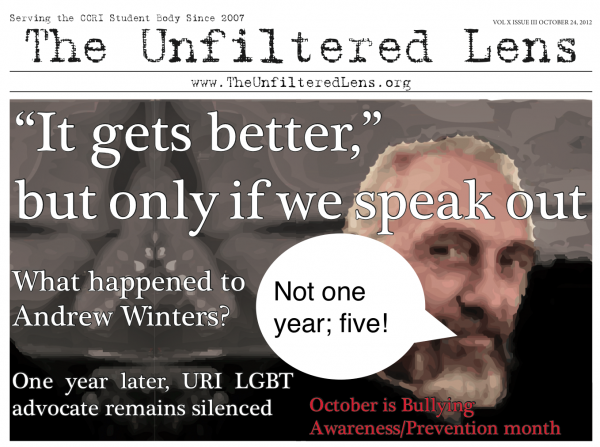 Almost five years ago, when the Providence Journal was still a local newspaper, Bob Kerr wrote one of his famous columns, one headlined "Mysterious end to career of helping:"
Andrew Winters did good and important work at the University of Rhode Island that few others could do. He helped students come in from some very cold places. He worked to change attitudes that often took the form of hard and hateful things yelled from car windows or scrawled on doors.
Two of URI's former students have not forgotten and shared their dismay in this month's issue of Options, Rhode Island's free LGBTQ Community Magazine.
One letter to the editor is from a former URI psychology student, Gary Burkholder, who received a Distinguished Achievement Award from the URI Alumni Association in 2014—see page 12 of Options.
After writing about his experience with Andrew's work at URI, which "greatly contributed to the evolution of the LGBT climate on the University of Rhode Island Campus," Gary ends with:
Some day the full story will be told and he [Andrew] will be an unquestionable and integral part of it.
The letter to the editor on the facing page 13 is by Aja VanDyke, another former URI student.  She starts by mentioning:
September 2016 marks the fifteenth anniversary of the inception of the URI GLBT Center; Rhode Island's first campus center for LGBTQ people. The Center was established to provide education, advocacy and support, and it did so for students, faculty, and other Rhode Islanders.

The community center no longer exists on the URI campus in Adams Hall.  Andrew Winters, the man who created it, was bullied out of his career …
Aja ends with:
Many of us see the retaliation that has been done to Andrew and Don [his husband] because of their LGBT advocacy, including the continuing official coverup, as a hate crime.
You can read the full letters in Options.
Of course, there is nothing mysterious about the coverup, nor about the fact that URI President Dooley welcomed an investigation in public, while he squashed it behind the scenes.  Whether it is workplace bullying, 38 Studios, or the "unexpected" failure of the Keable/Fogarty Burrillville power plant bill, that's how we do the People's business in Rhode Island.
Let me end on a positive note and wish Jen Stevens the best of luck as she departs Options as Editor in Chief. Thank you, Jen, for your dedication and hard work!
URI has failed to erase Andrew Winters' name

,