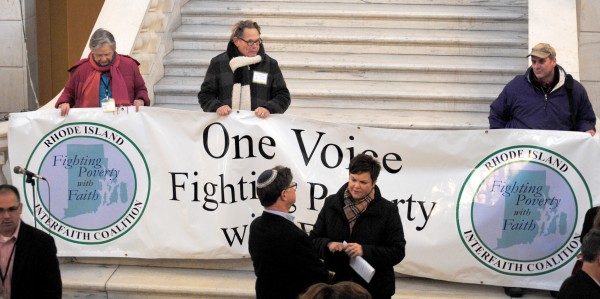 As they have for the past six years, about four dozen clergy representing a wide variety of faith traditions gathered at Gloria Dei Lutheran Church on Wednesday, put on their vestments and robes, and marched to the State House for the Rhode Island Interfaith Coalition to Reduce Poverty Vigil. The purpose of the vigil is to "ask our elected officials to govern with wisdom and compassion, state our commitment that everyone in Rhode Island must have their basic needs met and offer the support of the Interfaith Community" towards achieving the goal of cutting "Rhode Island poverty in half by 2020."
Governor Gina Raimondo, Senate President M. Teresa Paiva-Weed and Speaker of the House Nicholas Mattiello accepted the traditional invitation to speak at the vigil. They were introduced by Maxine Richman, Board Member of the Jewish Council of Public Affairs and co-chair of the Interfaith Coalition. Richman was direct with the public officials in her opening remarks, asking, "How can it be that Rhode Island, with a very large service sector and struggling middle class, has only a 10% earned income tax credit while our neighbors in Massachusetts earned income tax credit is 15% and Connecticut's is 20%? And how can it be that 1,3000 people are on a waiting list for foundational workforce programs?"
After the politicians spoke Bishop W. Nicholas Knisely of the Episcopal Diocese of Rhode Island addressed the issues confronting the poor from a Christian point of view. Knisely quoted the New Testament in which Jesus said, "the poor you will always have with you" to point out the continuing need for a robust social safety net.
The event concluded with the reading of the names of all state wide public office holders, all the members of the General Assembly and several prominent mayors. Very few elected officials attended the event.
The coalition is part of a national movement that includes the Jewish Council of Public Affairs, (JCPA) National Council of Churches, and Catholic Charities, as well as more than 40 other faith organizations.