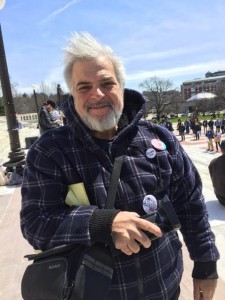 Several hundred people rallied on the State House South Lawn Saturday to speak out on why we need Bernie Sanders to be our next president. Basically rough and ready raw footage  to archive this exciting event where people are taking part in getting a President for the People elected- Bernie Sanders. Join the political revolution. The images at the beginning of each video are courtesy of Nicholas Delmonico.
Rhode Island state legislators Rep. Aaron Regunberg, of Providence, and Sen. Jim Sheehan, of North Kingstown, were previously covered here. You can watch the rest of the rally below.
It began with a march from Kennedy Plaza, where volunteers could sign up to canvass and phone bank to get the vote out for the April 26th primary.
Tracy Hart reads her poem saying goodbye to the old ways and hello to the new called  "Care Enough to Act." c.2016 Tracy Hart.
Lauren Niedel, a leading organizer both for Bernie's campaign here in Rhode Island as well as the RI Progressive Democrats, calls out the troops to canvass and phone bank. She deemed Rhode Island "is Bernie country now!"
Former state Department of Health director Dr. Michael Fine couldn't be there, but a message from him for the rally about why we need a single-payer health care system was.
Sandy Pliskin played poetry and music inspired by Bernie Sanders. In the tradition of sometime Rhode Islander Pete Seeger, he played a banjo.
Carolyn Colton-supports Bernie because of his positions on college debt and education.For a teacher, artist and activist on the cycle of Student Debt it is stressful for young teachers with crushing loans and low pay face knowing that this will be in the future of the students who they are teaching unless something changes in a major way. 
Abel Collins-South Kingstown Town Council President Abel Collins spoke on the environment. Abel supports Bernie because he understand the issues and the solutions. He notes Hillary Clinton as Sec. of State promoted fracking world wide and now the methane released by fracking and the expansion of natural gas has wiped out the gains that all of the build out of renewables would have provided.
Jared Moffet, aLegalize Marijuana Activist, supports Bernie because he is right to want to End War on Drugs which has failed too solve the problem but created a country with the highest incarceration rate in the world.
Linda Ujifusa, lawyer and activist,  supports Bernie because she feels he understands the immigrant experience recounting the internment of her Japanese-American  parents during WW2. "I'm here today to prove that all Bernie supporters are not white, or young," she said.
Dr. Mark Ryan supports Bernie because he wants Single Payer. Mark recounts a story about a patient who died because she could not afford the treatment he prescribed.
Ricky North, a Libertarian For Bernie because he can bring people together and attract people who would not ordinarily support Democrats.
Nikki Vanasse from South County for Bernie Sanders – supports Bernie because is is "a dream come true that we have someone representing us with love and compassion"  for our people and the world, noting his visit to Pope Francis.
Laura Perez, candidate for State Representative, supports Bernie because we live one of the most powerful country in the world and we still don't have free public education and college, and living wage for all and Bernie will work for this. Let's send work for Bernie and send a message to the RI Statehouse.
I spoke about racial justice. An important reason that I support Bernie is that we need a president with activist roots who participated in civil disobedience to stand up against injustice. I believe that Sanders will work with the community to uproot systemic racism and plant one that recognizes the value and equality of all races.
The Black Out Drum Line led a Community Celebration while people sign up and get information on Democratic Socialism and building a Fossil Free RI.
Tony Hempher from the Bank Tellers Union talked about why bank tellers are supporting Bernie's economic justice platform pointing out their poor pay and job security.
For What It's Worth: Full Circle – Time for a political revolution
Colorful and hysterical- the Anti- War and Pro-Environment activist singers the Raging Grannies sing take offs on popular folk songs with humorous lyrics on important issues.
Music for the Revolution while people sign up fro shifts to canvas signups.