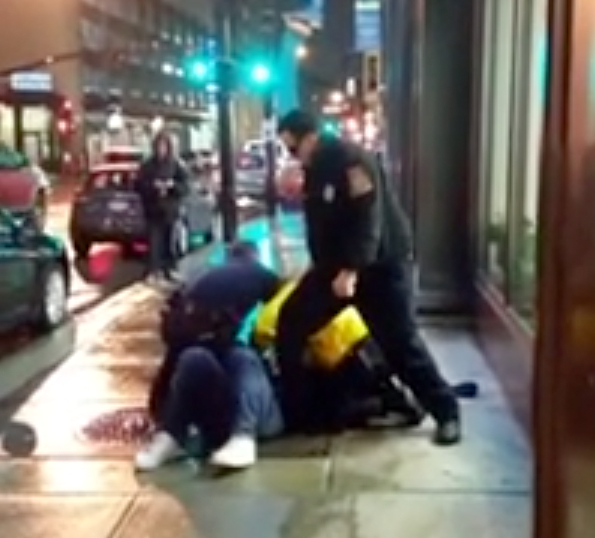 A 90 second video posted to Facebook appears to show a law enforcement officer or a security guard kicking a suspect being arrested by three other officers on Washington Street in downtown Providence Monday evening.
UPDATE: Providence Public Safety Commissioner Steve Pare told RI Future, "we're pretty sure that isn't a Providence police officer. We are checking today to see if we made any arrests related to what was depicted on the video."
Pare said he became aware of the video yesterday. "We don't know when this video was taken," he said on Thursday morning. "We're looking back over the last several nights, but if this is several months old it will be harder to identify."
UPDATE: Paré's assistant, Margaret Botelho email me that, "… the Providence Police Department was not involved in this incident."
Lt. Michael Chalek of the URI police department said he hadn't seen the video yet and indicated he wasn't aware of such an incident. He said he would know more after watching the video. Calls to the head of URI security went unanswered.
UPDATE: There was no arrest record for the incident Monday night, but there was a rescue vehicle dispatched to the scene around 9pm, according to the Providence Fire Department. For medical confidentiality reasons the identity of the person taken from the scene could not be revealed.
Posted by Willie Vanover Jr., the cellphone video appears to show two officers attempting to control and cuff a man laying down on the sidewalk as a third officer stands with his foot on the suspect's hip. At about 54 seconds into the video, the third officer appears to remove his foot, and then kick the suspect in the side. Seconds later the suspect is hauled to his feet and lead away.
The officer who kicked the suspect stays behind.
The video on Facebook lacks extensive description save for, "Downtown providence security at the school across from dunkin doughnut wtf is this clown stomping this man for please help me make this go viral."
This post will updated as new information is available.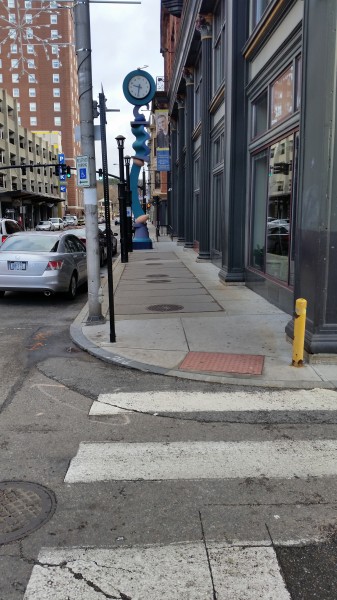 UPDATED: Video: Suspect kicked during arrest in Providence

,