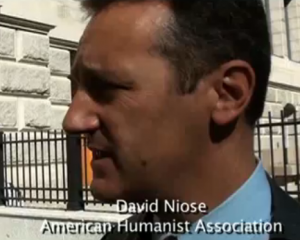 Wednesday morning found me at the Government Center in Boston Massachusetts gathering with fellow Humanists and atheists outside the courthouse to show support for the restoration of the pre-1954 Pledge of Allegiance. After the lawyers from both sides presented their arguments, they came outside to talk to the press.
David Niose, representing a family that wishes to remain anonymous, presented the case against the current version of the Pledge, explained his ideas about the case clearly.
Eris Rassbach, representing a family that wishes to keep the Pledge as it currently stands, spoke to the press in much more technical language. This might be because he's trying to obfuscate the paucity of his arguments. He also took some time to talk to me directly, recognizing my name and guessing that I was related to Jessica Ahlquist. This leads to an interesting exchange.
Video: Two sides in Mass. Pledge of Allegiance case

,