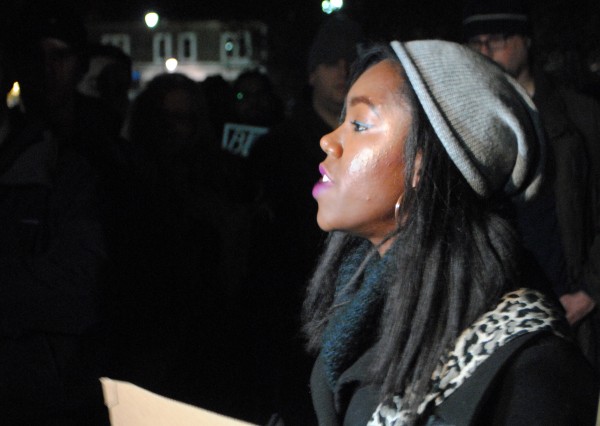 Friday night's #ThisStopsToday march through downtown Providence was filled with excitement. There was an abortive and tense attempt to block the highway, at least two "die-ins" and an attempt to enter the Providence Place Mall that was literally prevented by police physically strong arming the protesters out the doors.
I have footage of all that in another post, but for now, let's hear from the two speakers who opened the march.
"To say that 'black lives matter' seems to be a revolutionary belief in a nation where the possibility that a young black man may have stolen some cigarettes or that some self-appointed watchman was scared enough is enough to justify the murders of black bodies…"
"Why is success being quantified as a simple linear equation, hard work plus motivation equals success? Why do we not consider the other factors like race, gender, class that affect this so-called path? Michael Brown's mother did everything she could for her son. Together they worked hard tirelessly so that he could have the opportunity to attend college where previously there was none. But in the matter of a few minutes, that did not matter. It didn't matter that he studied. It didn't matter that he applied. It didn't matter that he did the work. In a matter of seconds he was nothing more than a black body…"
---
---
Support Steve Ahlquist!
Voices from Friday night's #ThisStopsToday protest

,