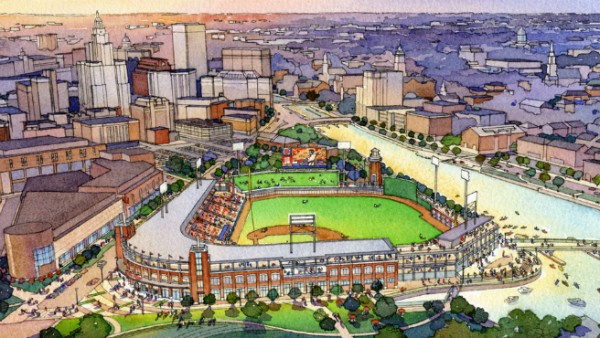 Since the idea first surfaced to move the Pawtucket Red Sox to downtown Providence, many Rhode Islanders have feared a backroom deal would be made – regardless of the project's merits – between the affluent owners and local politicians. But Sam Bell says a start-up group calling itself the Providence Campaign Against the Stadium Deal has a plan to make sure the decision is made by the people of Providence instead.
"We are now more than halfway towards the 1,000 signatures we need to send our anti-stadium ordinance to the City Council," Bell told RI Future in an email.
He explained, "Our voter initiative uses Section 209 of the Providence Home Rule Charter, which allows us to collect 1,000 signatures to bring an ordinance to the City Council.  If the City Council does not approve it, the Charter allows us to collect more signatures to put it on the ballot."
The same Providence process allowed hotel housekeepers last spring to put on the ballot a $15 an hour minimum wage for that industry but the idea was squelched when the General Assembly passed a law forbidding municipal minimum wages that differ from state law.
Bell said the anti-stadium "initiative forbids the stadium from being built on the part of the I-195 land designated a public park, and it forbids Providence from providing any special financial treatment for the stadium, including tax breaks."
He said the formal campaign against the downtown stadium began collecting signatures 8 days ago and has already amassed more than 500. There is no deadline for reaching the requisite 1,000, he said.
"Providence residents are incredibly opposed to the stadium deal, but popular sentiment is not always heard in the back rooms of the State House and City Hall," Bell said. "What makes us so excited about this campaign is that it gives the power back to the people. We hope to win the support of the City Council and the Mayor in our campaign to stop the stadium deal.  If not, we will stop it at the ballot box."
Voter initiative launched to stop downtown stadium deal

,