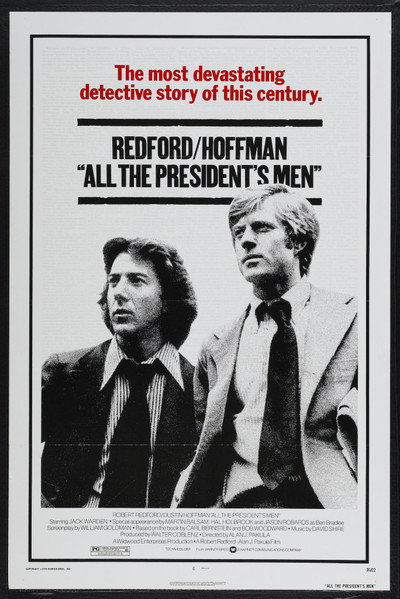 Have you ever wondered what it is like to work in the news? Do you wish you had an insight in the world behind the headlines but can't give up your 9 to 5 job? Well, you are in luck, there are four weeks of film screenings that help you know what it's like to be a journalist.
Warwick Public Library will host a four-week film exposition titled 'Inside Scoop: A Journalism Film Series' beginning this Thursday.  Featuring journalist Steve Starger, the pictures begin at 7 pm weekly and include commentary by Mr. Starger, who has written for The Hartford Courant, Hartford Times, the Hartford Business Journal, Art New England magazine, and Cashbox Magazine.
Starger, a volunteer at the library, formed a friendship with librarian Will Gregersen, and the idea for a journalism-themed film series blossomed.
"We just started talking about movies and he contacted me and said 'why not do a series on film noir and crime?' and things went from there," Starger said. "I'm really excited and Will gave me a great opportunity here."
He gave RI Future a brief review of each movie.
"'All the President's Men' jumped at me immediately because it shows the nuts and bolts of journalism, how they put together the [Watergate] story," he said. "It's every journalist's dream to take down a President.  'Veronica Guerin' is a really tough story, its about a journalist who was doing stuff on the mob, and it shows what the risks are.  'Capote' is about how the nonfiction novel was created and shows how he created the genre, including inventing scenes.  And 'Good Night and Good Luck' is about Ed Murrow and how he went toe-to-toe with McCarthy, which was a big story at the time.
July 9: ALL THE PRESIDENT'S MEN (1976)-RATED PG.
July 16: GOOD NIGHT AND GOOD LUCK (2005)-RATED PG.
July 23: VERONICA GUERIN (2003)-RATED R.
July 30: CAPOTE (2005)-RATED R.
For more information, visit the event page here or contact the library at (401) 739-5440.