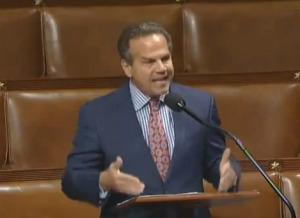 America faces a hunger crisis.  Every day, more and more Americans go to bed hungry.  Yet Democrats in Congress have reached a deal with the Republicans to cut the Supplemental Nutrition Assistance Program, also known as SNAP or food stamps, by $8 billion over the next decade.
Fortunately, Rhode Island has a Congressman who fights for struggling families.  Along with Connecticut progressive Rosa DeLauro, David Cicilline took to the floor to give a truly moving, passionate speech.  Here's the video:
This is the second time in the past few months that Cicilline has stood up for Rhode Island values, saying no when the Democratic leadership pushes policies that will hurt the 99%.  Progressives in the Rhode Island House of Representatives, who have to deal with a much more conservative leadership team, should draw inspiration from his courage.
When it comes to stopping cuts to nutrition programs, our Senators also deserve huge credit for being the only two Democrats to vote against the original Senate Farm Bill, which would have cut nutrition programs by $4 billion over the next decade.  It hasn't gotten much coverage here in Rhode Island, but our delegation has been leading the fight against the right's hunger agenda.
Today, both Cicilline and Langevin voted against these cuts.  They were joined by a majority of the House Democratic caucus.  Now, the bill goes to the Senate, where progressives are lucky to have Senators Reed and Whitehouse fighting for us.
WATCH: David Cicilline Gives an Awesome Speech

,