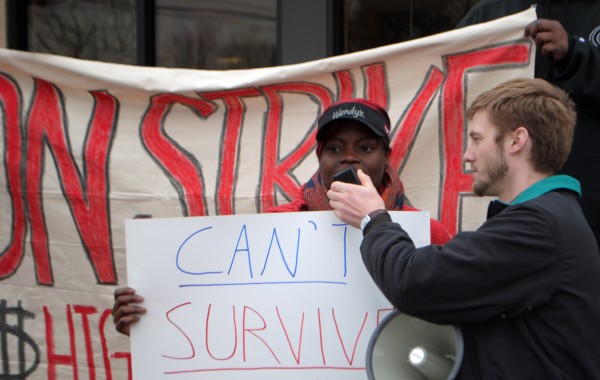 Arguments against raising the minimum wage are tedious, immoral and wrong.
Writing about the need for a substantive raise in the minimum wage to alleviate the crushing poverty of the working poor opens the floodgates to conservative and libertarian cranks who argue, against all reason and compassion, that minimum wage laws should be abolished. Tearing quotes from their dog eared copies of Rothbard and Mises, two economists who never met a real-world constraint on their precious theories that they can't talk themselves around in an assault of dense, senseless prose, Libertarian and free-market conservatives (as if there is a real difference) barrage the Internet with drivel.
Entering into discussions with people who advance economic models over economic reality is like jumping into choppy waters to rescue a drowning victim: If you are not extremely careful you will be dragged below the waves and drowned yourself.
After I wrote a piece on this blog taking Republican gubernatorial candidates Alan Fung and Ken Block to task for opposing an increase in minimum wage, I was hit with this objection from frequent commenter "jgardner":
The minimum wage has never been, nor will ever be, a job creator, but will always be a job destroyer.
First, I never said raising the minimum wage would directly create jobs, but I did cautiously assert that providing the working poor with more money would have the effect of stimulating the economy, because poor people spend their money. More importantly, however, is the the second contention, stated without any proof as though delivered from God to Moses: The minimum wage is a job destroyer. From this I am to then conclude that abolishing the minimum wage would create more jobs. Perhaps. But these jobs would only be paying slave wages that keep the working poor working and poor.
As explained way back in 2009 by economics professor Bill Mitchell:
The winds of change strengthened in the recent OECD Employment Outlook entitled Boosting Jobs and Incomes, which is based on a comprehensive econometric analysis of employment outcomes across 20 OECD countries between 1983 and 2003. The sample includes those who have adopted the Jobs Study as a policy template and those who have resisted labour market deregulation. The report provides an assessment of the Jobs Study strategy to date and reveals significant shifts in the OECD position. OECD (2006) finds that:

-There is no significant correlation between unemployment and employment protection legislation;

-The level of the minimum wage has no significant direct impact on unemployment; and

-Highly centralized wage bargaining significantly reduces unemployment.
Having to finally concede that there is no real world evidence for his contention and instead a wealth of evidence against his position (though in truth no concession was made, the issue was simply sidestepped), "jgardner" pulled out his trump card:
If the minimum wage could lift people out of poverty with no adverse effects for anyone, why not raise the minimum wage to $25/hr?
One might as well ask why, if one beer relaxes you, why not drink twenty-five beers. The answer is because doing that will kill you. When answering such objections, no matter how nicely you try to put things, you feel like you are talking to a petulant child: "A little of something can be good for you, but a lot of something can hurt you. That's why you can't eat all your Halloween candy in one night."
Here's a nice way to say it, from the Social Democracy blog:
There is another objection that has been going the rounds (mostly on libertarian blogs): if we make the minimum wage $9, then why not $900? That objection is, quite frankly, brainless.

The minimum wage is a floor concept: the floor is roughly the poverty line (or slightly above it). That is where you set it, and not well above it.

Not even Post Keynesians deny that excessive wage increases can feed into cost push inflation – wages being a big factor in input costs. But a rise from, say, $7.25 to $9 is quite small. In the real world, whole swathes of the market have corporations and businesses that actively set prices and control them by price administration. They leave prices unchanged for significant periods of time, even when mild to moderate demand changes happen, or even when mild price increases affect their factor input costs.
I've been hard on "jgardner" because he was brave enough to put his opinions out there, and I would like to believe he's a decent person. But like so many otherwise decent people who believe terrible things because of their religion, "jgardner" seems similarly trapped by his economic beliefs. Ultimately, shouldn't all this back and forth economic theorizing should be secondary to other, more pertinent concerns? People right now are working full time at two or more jobs and being forced to subsist below the poverty line. This situation is plainly immoral and monstrous.
Moral arguments for raising the minimum wage include lifting people and families out of poverty, paying people an honest salary for an honest days work, moving away from the economic paradigm that suggests unemployment is voluntary and that workers are "shirkers" and reducing in some small way the vast economic inequality that threatens to destabilize our democracy.
A decent society, made up of decent people, does not let unemployed people starve, it does not plunge families into homelessness and it does not encourage businesses to pay slave wages for hard work.
Economic theories that do not fit in with observations made in the real world need to be modified or discarded. Science is not a process of inventing a set of ideal rules that support pre-existing prejudices. It is a process of suggesting possible rules, and then testing them against reality through experimentation and observation. In this way Libertarian economists such as Mises and Rothbard catastrophically fail as scientists. I should add here that as bad as Libertarian economic theory is, even mainstream economics needs a scientific wake-up call. (See: "Economics needs a scientific revolution" by physicist Jean-Philippe Brouchard.)
Inviting Libertarian economic views into serious economic and political policy discussions is as useless and counterproductive as inviting the views of Trofim Lysenko into a modern genetics conference or inviting Erich von Däniken to give a talk at an ancient history seminar.
The damage done to human wellbeing by corrupt economic theory far surpasses the damage down to our society by the teaching of creationism in schools, anti-vaccination conspiracy claptrap, the anti-birth control advocacy of the Catholic Church and Islamic terrorism combined. It is time to grow up, abandon the religion of economic idealism, and start living in the real world of testable economic hypotheses and scientific economic rigor with the intention to abolish poverty once and for all.
Not needed: crank economic opinions on the Minimum Wage

,