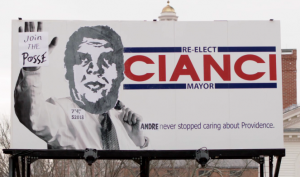 Buddy Cianci, the 73-year-old former mayor can probably think of no better way to go out than dying on a Kennedy Plaza throne and being brought down to Waterfire on a shield. Many people thought they have seen the last of him following five years in prison, but I'm pleased he is eligible to run for office regardless of his criminal history.
Buddy's political career couldn't be defeated after his first conviction, when some legal and political wrangling got the law bent for him to get back in office. His first conviction was, in some ways, like many others in Rhode Island: a guy loses his temper and gets violent.  Whatever the true details, it had nothing to do with his mayoral duties or ability to run the city. Nobody but a Buddy Cianci, surrounded by a political machine, could possibly have gotten reelected for office after being sentenced to five years felony probation in 1984. In fact, a constitutional amendment was passed just a year later- amending the lifetime ban down to one where Cianci would need to wait three years after completing his probation.
In 1990, Cianci's machine returned to power. A court even ruled that the three-year wait didn't apply to people convicted prior to 1985.  His criminal history, however, did not influence his political views. He didn't push for new policies that took a rehabilitative approach to social problems. Many mayors do not, and typical to the position the Providence Police served their role in responding to the social dilemmas we still face, i.e. poverty, substance abuse, unemployment, lack of affordable housing, mental illness, and crumbling public education.  Arrests lead to convictions lead to lifetimes of de-citizenship for those other than Buddy Cianci.
In 2005, a group of activists in Rhode Island came together to promote a more inclusive democracy and expand voting rights to people on probation and parole. This was especially important as Rhode Island disenfranchised people of color at higher numbers than the Deep South and is a national leader in lengthy probation sentences. Tens of thousands of Rhode Islanders lived and worked in the state, raising children, being good neighbors, yet could not take part in the democracy.
Buddy was not quite yesterday's news in 2006, when the final proposals were being crafted. He had been indicted in 2001 after "Operation Plunderdome" exposed a classic political kickback scheme. He was amidst his five-year federal prison sentence for racketeering when we drafted the constitutional amendment regarding voting rights – and we considered the right to run for office as well. Based on some people's well-founded concerns, and the need to avoid a "Buddy" debate, the limitation on running for office was left in place. Back then we just wanted to vote, and none of us wanted to be a politician anyway.
The three-year post-sentence ban ensured that Buddy would be ineligible for the last mayoral race. People expected that to be the end of him. After all, he wouldn't be eligible for another mayoral run until he was 73. Who even makes it to 73?
The most fundamental aspect of a democracy is the right for a community to choose its own leaders. Eligibility requirements, such as residency for instance, should be limited to things ensuring that a person truly is a representative of the constituency. It may make sense to create policies that bar people with particular criminal histories from being barred from specific occupations. We do this all the time, and it is only the blanket bans that push the bounds of legitimacy and legality (well framed by the EEOC guidelines on employment for people with criminal convictions).
The poetic irony of those up in arms over Buddy's eligibility is the fact that tens of thousands of Providence residents also have felony convictions. A significant percentage of children in Providence schools have a parent in prison, on probation, parole, or long since moved on from that past. Walk into any business and there is a good chance that someone with a conviction history is working there. They are cooking your food, fixing your vehicle, selling you products, and every other imaginable thing. Buddy did not take up the mantle for the challenges of other folks with conviction histories, thus he is not "representative" in that regard – but at this point we are all so intertwined that, generally, the conviction itself is irrelevant as to one being a good or bad person for the job.
People are free to elect bad leaders. Employers are also free to give people second chances. I confess to having never listened to Buddy Cianci's radio show since his release from prison, nor have I tried his pasta sauce. He very well may be an out-of-touch old man who would surround himself with cronies, and the children of former cronies. He may paralyze the city, as it expends half its resources trying to be sure he doesn't corruptly exploit the other half.
The city had over a decade to create a policy that barred people convicted for malfeasance in office for getting that same job back. Look to Cicilline, Lombardi, Taveras, Solomon and the like regarding that issue. It was really that simple and, who knows: perhaps there is still time?
I know first hand that people change. Some change through prison, others just pass adolescence, mourn the passing of a loved one, spend time in quite meditation, or any of the myriad ways we grow as human beings. Some people may not even want a "changed" Buddy as mayor; in fact, they want the same guy back in office.  Either way, views on the integrity of every candidate belong in the campaign.
In the end, his eligibility is just like freedom of speech: I may not like what you say, but I'll defend your right to say it.