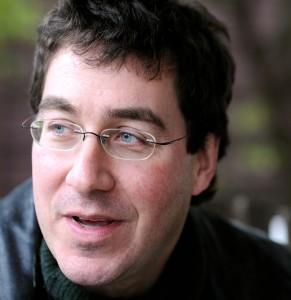 Every two years I consider the possibility of running for Congress… Again.
Yes, I ran for the US House of Representatives in 2004 in the Democratic Primary challenger to Patrick Kennedy, who had cast an insanely foolish vote for the war in Iraq.
At the time, I joked that my slogan was, "More liberal than a Kennedy."
It's 2012, and we're finally out of Iraq, but the other issue that I developed during that primary run has become more imminent and remains ineffectively addressed by the current crop of wind-blowing politicians.
I'm talking about the price and cost of fossil fuel energy.
In 2004, I proposed a $.25 a gallon tax on gasoline. The money would go to fund alternative energy and public transportation. The price of a gallon at the time was about $2. "No one will pay that much!" was the UNIVERSAL reply I got from even my most liberal and environmental friends.
$4 a gallon? Just wait.
In 2004, I was talking about peak oil — nobody believed me. They laughed. That's years away.
Now, it is generally an "accepted fact" that every year — for the rest of eternity — we will be pumping less and less gas and oil from the ground. The well isn't dry, but it will be.
$5 a gallon? Just wait.
My final oil bill — for only 120 gallons was just over $600 — and it was a warm winter. Anybody out there run a public school? Can you tell me how many gallons of oil you burn to heat those buildings?
Have we budgeted for $6 a gallon fuel oil? For $10 a gallon?
$10 a gallon? Just wait.
Since 2004, what percentage of tax dollars have been spent funding public transportation, mass transit and alternative energy, and what percentage have gone to highways, tax cuts for oil companies and so on?
If I was running for Congress, I'd research the facts and tell you the answers.
But I'm not going to run for Congress.
Here's why.
After my first run, I realized a few things about being a politician in the current political climate:
You need to raise lots and lots of money
You need to have an Ego the size of Rhode Island (or bigger)
During my campaign, I said over and over again, "I don't want your money. I just want your vote — and tell other people."
I got 26% of the primary vote on a budget of less than $500.
But I clearly didn't get the message across — which needs money.
I also found that I was unwilling to ram my face and political opinions in front of thousands and thousands of people at every opportunity. I was unwilling to stand up at a memorial for Iraq war dead and wounded and say, "The war is wrong—vote for me!" When I did so at the Avon theater on the anniversary 9/11 at an anti-war film, I was hissed and booed. Hissed and booed in the bastion of liberalism because I wanted to run for Congress against the war.
Everybody who knows me, knows I have a huge ego — but it's not that big. I don't think I'm "The Best Man For The Job."
But….
Every two years I look at the clowns who are running for office and running the country and I ask: Where is the leadership who will step forward and say, "We need to start planning and conserving energy NOW. We can't wait for the invisible hand of capitalism to produce these kinds of results. Capital will be happy to drain this country dry and move to Europe, where they've had high gas taxes for decades—and used the funds to pay for the trains!"
What do we need? What would my platform be?
Raise the price of gas by 10% and increase taxes for oil companies. The increase will encourage conservation. Use the funds to plan and improve energy efficiency in ALL municipal buildings, to fund alternative energy production for homeowners, and to build trains and fund public transportation.
Create tax incentives now for the imminent flood of citizenry moving from the suburbs to the cities. Create energy efficient and affordable and good looking housing (talk to Keith Stokes in RI about this) so that people will be able to live near where they work and shop and play.
De-Authorize No Child Left Behind. End the test-test-test focus of public schooling. Use all money saved from the FUNDING INDUSTRY to hire new teachers and make class size smaller.
Fund public works of art
Encourage urban farming (talk to Cuba about this)
Finally, I've been thinking about the Occupy movement, and thinking that we need to find a new "Occupation" for most people. The idea that people will find "work" in a post-industrial post-oil economy is tenuous. I think that people need both work and occupations, things to occupy their time, to produce for the common good (socialism? Gasp!) and for their own livelihood and self-image.
I don't know how "Operation Keep America Occupied" would work, but there really needs to be something more for our young people than playing Call of Duty and going to the Mall.
So, why am I not running for Congress?
Because none of the issues I've mentioned are electable.
Because I don't want to ask you for money to send me to Washington.
Besides, I like it here.
Mark Binder is an award-winning author and storyteller. You can look at his "Campaign" website, and download my catchy campaign song, at: http://markbinder.com/candidate/ 
___________
In honor of the end of the war in Iraq and the coming end of the Afghanistan mess, Mark's book, "Stories for Peace" is half-off. Everything else is discounted 20% for RI Future at: http://bit.ly/storyspecials
If you'd like to keep in touch with Mark's "Storyteller" personna, please subscribe to the Storyamonth newsletter: http://storyamonth.com/