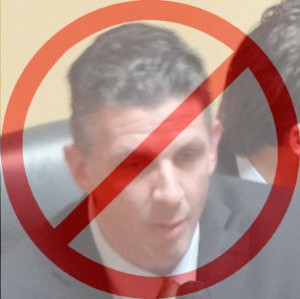 Just nine days after a narrow defeat to local firefighter Stephen Casey in September's Democratic primary, Woonsocket representative Jon Brien announced — without a whiff of humility — that he would be running a write-in campaign to retain his seat in the General Assembly.
Brien claimed that administrative errors by the Board of Canvassers sent voters to the wrong polls on primary day, and that this caused many of his supporters to show up at the wrong polls — and out of frustration — did not cast their votes.
While this may be true, it speaks to two pertinent points.
First, Brien has not generated any palpable enthusiasm in the electorate — or in his base for that matter.
If after being told that they were at the wrong poll, these folks weren't willing to get to their proper polling place — most of which are less than a five or ten minute drive from any other polling place in the city — to support their chosen candidate, they either thought that Brien would cruise to victory by a wide margin or, more likely, the voters in Woonsocket have begun to see through the thinly veiled Republican in Democrat's clothing.
Second, in such a close race — Casey took the primary by 52 votes — if this was happening to Brien's supporters, it was happening to those who turned up at the polls to support his opponent at the same rate.
It may be hard for Brien to believe, but maybe — just maybe — Casey's supporters had a little more resolve when faced with an "administrative error" because they actually felt strongly that their candidate was the man for the job, and Brien's would-be supporters resigned themselves to, "Whatever, maybe we need a change, anyway."
Brien also claimed that low voter turnout contributed to his political demise.
This is patently false. In fact, the Casey/ Brien race brought more voters to the primary polls in District 50 — 1,392 to be exact — than the three-way race in the 2010 midterm primary, which drew only 1,105 voters in the district.
What we have here, my fellow Villa Novans, is a severe case of sour grapes.
Brien has gotten a taste of power, and he is loath to surrender it; all the more reason to support Stephen Casey.
I have met both of these men, and I can say Steve Casey is a man who has strong opinions, but chooses his words and actions carefully. As a firefighter, he understands that one cannot go off half-cocked, rushing into situations of which he does not know the full gravity.
Brien, on the other hand, is an abrasive loudmouth who shoots from the hip, consequences be damned. His approach to politics only alienates other legislators and citizens, and a pig-headed, uncompromising representative to the state legislature is the last thing our great city needs given our tenuous financial and social situation.
Dave Fisher, a Woonsocket resident and the ecoRI.org editor, will be posting about why Jon Brien should not be reelected every Monday up until the election … but hopefully not after.
Sour Grapes: Jon Brien is Wrong for Woonsocket

,