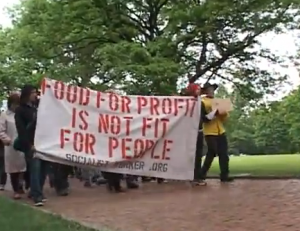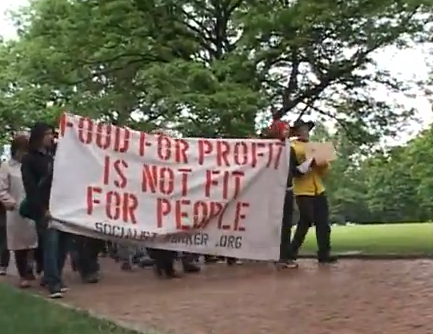 As our season of feasting approaches, it seems rather apropos for activists to intensify anti-GMO campaigns. On October 12th, Providence joined hundreds of cities worldwide to March Against Monsanto. This particular march was successful in building/inspiring subversive camraderie, and raised some crucial awareness surrounding GMO's effects on our bodies and ecosystems. Yet, Rhode Island and Massachusetts are still struggling to actually pass GMO labeling bills.  The passage of these bills is necessary for GMO-labeling laws to take effect in CT and Maine. 
However, some would argue that the "movement" should go one step further, and ban GMO's altogether.  While long-term health studies have not been conducted, it is becoming common knowledge that research shows links between GMOs and digestive disorders, cancer, allergies, and infertility. 
GMOs were quietly introduced into our food supply in the 90's, and our government never required or performed ANY safety testing. Superweeds and superbugs have become resistant to GMO-related pesticides, and GMO crops have been known to contaminate non-GMO crops.  It seems blatantly obvious that we have been deceived; consumers have been denied accurate information to make informed choices, and have paid a high price.
The time to get involved and make our voices heard is Now.  Particularly when Monsanto spends millions on effective misinformation campaigns, like the most recent one in Washington.  I-522 (a ballot initiative to mandate GMO labeling in the state) is a measure that would require "raw agricultural commodities, processed foods, and seeds and seed stocks" to be labeled as genetically engineered "when offered for retail sale."  (If the law is passed in November, it would take effect July 2015).  Meanwhile, in DC, members of Congress continue debating the final version of the Farm Bill, including the controversial King Amendment.
If you're seeking ways to get involved in Rhode Island, you can contact the Rhode Islanders Against GMO's through their Facebook page, and if you live in Massachusetts, please visit http://marighttoknow.com & check out their talking points for calling elected officials. Some state reps are considering GMO labeling legislation, but have made it clear these bills will not go anywhere without pressure from constituents.