On a December 2012 episode of Newsmakers, Providence Mayor Angel Taveras had this to say in defense of Providence's high unemployment rate: "Our rate is 12%, and when I started, it was 13.7%."  Given the economic devastation that has befallen our capital city under Taveras's leadership, these numbers are likely to play a major role in the upcoming gubernatorial campaign between Taveras, Raimondo, and Pell.
So it's important to understand what's so deceptive about that 13.7% figure.  It all has to do with seasonal adjustments.  Taveras took office in January, when there's typically a surge in unemployment as workers get laid off at the end of the calendar year.  That 12% figure was from October, when unemployment stays low as seasonal workers are hired for the holiday season.
The state and federal unemployment rate figures you usually see have had a seasonal adjustment applied to them by the Bureau of Labor Statistics. Although there is no Providence-specific seasonal adjustment, if you apply the Rhode Island adjustment, the unemployment rate in January of 2011 was really 12.8%, and in October of 2012, it was really 12.5%.  Not much improvement.
Ultimately, I think the best way to assess Taveras's unemployment record is by comparing it to Rhode Island's.  I have plotted them together, indexing to 100 in January 2011 when Taveras took over.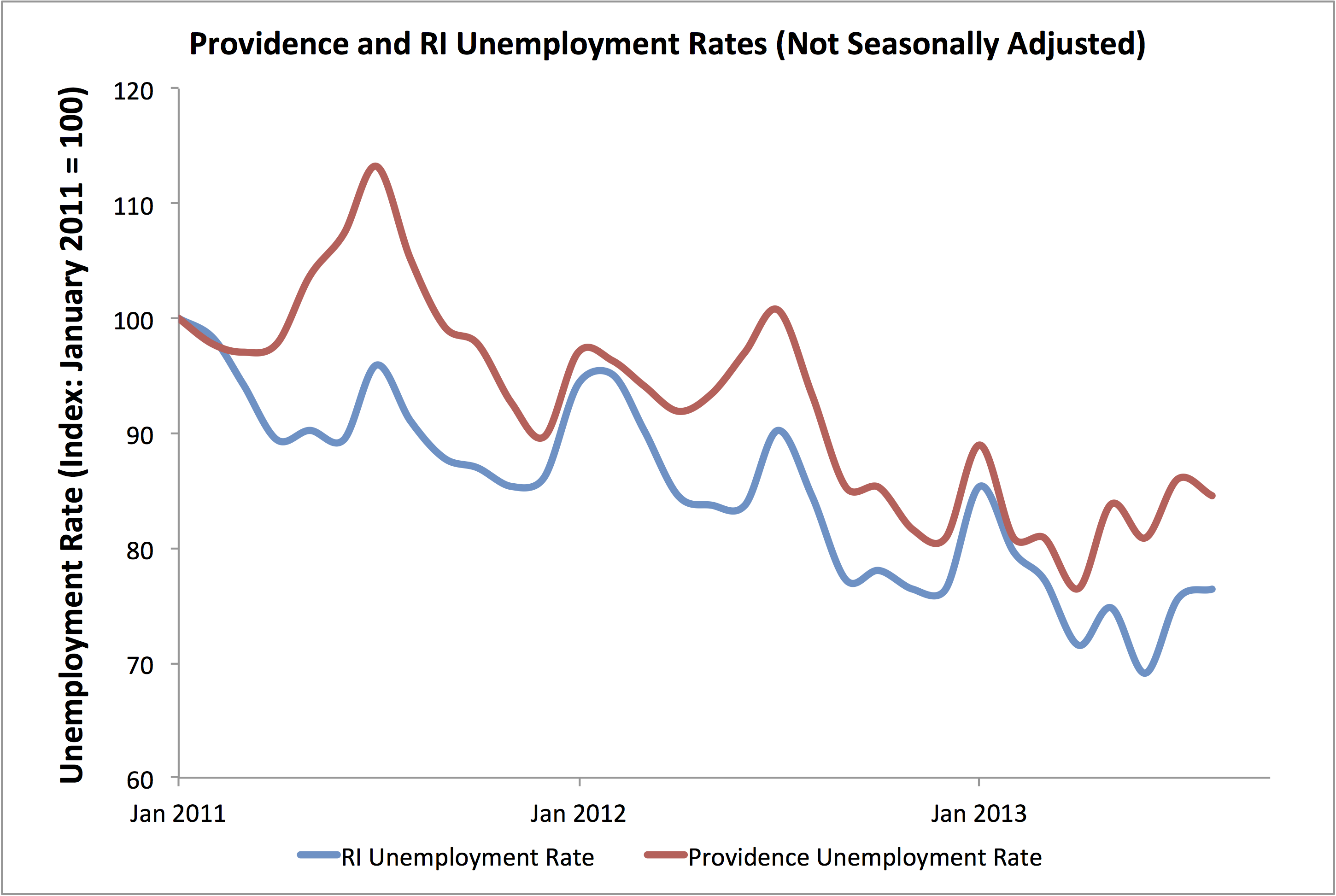 The beginning of Taveras's tenure was marked by a massive surge in the unemployment rate in the spring.  In the fall it fell, nearly matching the RI rate.  Next spring it surged far above the RI again, and next fall it fell again.  Now it's once again rising above the RI rate.  This pattern of surging unemployment in the late spring is the classic signature of massive fiscal austerity, where public sector layoffs accelerate as the end of the fiscal year approaches.  In a normal economy, the peak from private sector layoffs in January will be much bigger than the public sector layoffs peak around June.  In the austerity-laden Rhode Island economy, those peaks are nearly the same size.  But in Providence, the public sector layoffs peak completely swamps the January one.  That's the sign of truly extreme austerity.
The tough truth for progressives is that Taveras has been one of Rhode Island's biggest austerity zealots.  He has closed schools and pools with disturbing fervor, while hiking property taxes to mind-bogglingly insane heights.
There's no denying the mess Providence faces.  If Taveras had really wanted to fix Providence, he probably would have had to push for the same boring solution that other blue state cities have taken to get themselves out of similar messes–a municipal income tax, which would largely replace the property tax.
You can make a credible argument that the right-wing General Assembly would have blocked an income tax in their bid to keep property taxes high and protect Rhode Island's regressive tax system.  But Taveras never even tried.  Instead, he just cut jobs and raised taxes on the middle class.  Providence has paid the price in unemployment.  Since Taveras took office, the capital city's economy has systematically lagged Rhode Island's.
Taveras's record on unemployment

,