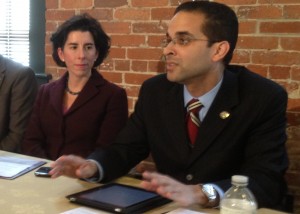 I agree with Sam Howard who suggests there isn't a giant gap in the policy priorites of Angel Taveras and Gina Raimondo, but I don't think that means there would be many other similarities in how each would governor Rhode Island.
On WPRI Newsmakers Sunday, Ted Nesi asked Taveras about a post Howard wrote on this blog, specifically: "I don't see much, policy-wise, that differentiates the two candidates. I think Gov. Raimondo will make policy choices that a Gov. Taveras would also make, and vice versa."
Taveras dove into his well-versed "Head Start to Harvard" campaign narrative and Nesi responded: "But I think that's Howard's point, you will have different biographies but then once you take office you both will govern in pretty similar center-left Democratic fashion."
I don't think they would govern in similar styles and I haven't seen tons of evidence that Raimondo will govern in a center-left Democratic fashion. Or, at least, that's certainly not how she accomplished her signature political victory.
Here's how Bob Walsh, executive director of NEARI, parsed the difference in their approaches to cutting public sector pensions to WPRI in December of 2012 (watch the whole episode to see what the political landscape looked like just 11 short months ago!).
For me, and probably for many voters, policy differences aren't the biggest factor in deciding for whom we pull the lever. It's how you play the game.
Divide between Taveras, Raimondo: how they play the game

,