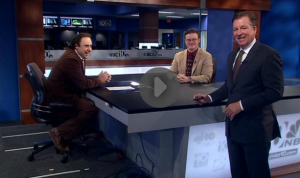 Every time Justin Katz and I tape a Wingmen segment, we find new ways to disagree. But we also find these not-inconsequential areas of agreement too.
This week we debated whether Obamacare is working (guess who suggested this topic!) and Katz articulates well where we agree on health care policy:
"What government is there to do is to say if you need help this is what these programs are set up to do," he said. "If you need help this is a place you can go to find help."
But he thinks the government-funded advertisements are going too far. I don't. Especially given that conservatives like Katz are actively trying to subterfuge the program with their own ads and commercials. But leaving that aside, austerity by way of information asymmetry is a truly perverse political assertion.
Me: "I honestly think it's unconscionable to try to keep that information from people. That's not a cool way to save money.
Justin: "Taking people's money to give it away to people who didn't know they needed it is not conscionable."
Watch the video to hear how loud Katz bangs on the table as he talks!
News, Weather and Classifieds for Southern New England
Wingmen on Obamacare: Katz says we need gov't, but don't tell the people

,