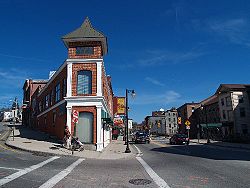 The story in Woonsocket just keeps getting weirder. First the House delegation overrode the will of the mayor and city council by not supporting a supplemental tax bill at the State House last week. Then, today, a member of that city council – one who supported the tax increase, no less – has called for the resignation of the state official who tried to negotiate a deal with the delegation for the tax.
And, oh yeah, they are also father and son.
Woonsocket City Councilor Albert Brien, who voted for the supplemental tax increase at the city-level, is the father of Rep. Jon Brien, the legislator who killed it at the state level. Today, Albert called for the resignation of Rosemary Booth-Gallogly, the governor's fiscal adviser who negotiated with the delegation late into the last night of the session, for saying in a press release after talks stalled that his son – and the rest of the delegation – let down local residents.
"It's very simple," Albert Brien told me. "If anyone has failed the city it has not been the delegation, it has been the state."
He said Booth-Gallogly and state Auditor Dennis Hoyle specifically failed Woonsocket by not overseeing bond criteria was met after its issuance. In general, he added, that the state has failed Woonsocket by not properly funding education.
Albert Brien did so, first reported by the Valley Breeze, as a member of the Woonsocket Taxpayers Coalition, a group that advocates for lower property taxes locally. While Albert is a member, son Jon is not.
"It's more of a citizen thing," Rep. Jon Brien said. His father stepped down from the group's executive board when he was elected to the city council but remained a member.
Both father and son say they are the rare breed of staunchly fiscally conservative Democrats that seems only to exist in norther Rhode Island communities like Woonsocket.
"Socially, I'm liberal, and fiscally I'm conservative," Albert said.  He said such a platform is not such a strange phenomenon in Woonsocket. Jon is one of the most conservative members of the General Assembly.
Albert Brien actually beat out his son's wife Stella Brien for a seat on the city council, and she used to hold his seat in the legislature.
Although they often agree politically, they don't always such as was the case on the supplemental tax bill.
"We disagree all the time," Albert Brien said. "He does his thing and I do mine. Last year I had a Cicilline sign on my lawn and he had a Loughlin sign on his."