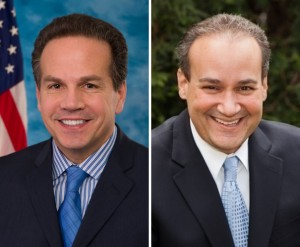 Recently, the Rhode Island Progressive Democrats interviewed both of the candidates running in the Congressional District 1 Democratic primary race, incumbent Rep. David Cicilline and challenger Anthony Gemma.  Each candidate was asked the same questions and below are their video responses.  When the endorsement vote was taken, David Cicilline received the unanimous endorsement of the Rhode Island Progressive Democrats.  As you watch the videos, and read the summaries, you'll understand why.
Cicilline is a well-polished candidate, being in public service for roughly 15 years, first as a State Representative, then Mayor of Providence, and now as U.S. Congressman.  Gemma is not as well-polished and at times seems uncomfortable with the questions being asked.  While in some of the questions Gemma and Cicilline give similar and even identical responses. In virtually every set of questions Cicilline is the more progressive and forward-thinking candidate.
I commend the Rhode Island Progressive Democrats for the level of sophistication and detail embodied in these questions and  for really pushing the candidates to give detailed answers.  And with that….
Economy:
Cicilline:

Rep. Cicilline supports President Obama's Jobs Act.  He states that America needs to rebuild its infrastructure and asserts that such an  effort will generate huge payoffs in the number of jobs due to the employment of construction workers and in the supply of goods and services that are required to rebuild America.  He envisions a modern day version of the WPA.  He has co-sponsored the National Infrastructure Bank legislation and feels there has never been a better time than now to borrow money and get this done due to historically low rates.
Secondly, the country needs to reinvigorate American manufacturing and expand on the great base that exists in the US by putting in place policies that actually support the manufacture of American-made goods rather than incentivizing the offshoring of American manufacturing overseas.  In Congress he has introduced a set of bills to "Make it in America."  These include a national manufacturing strategy, legislation to address the manipulation of Chinese currency, and ending tax break to companies that ship jobs overseas.  Cicilline voted against trade agreements because they lacked the protections for American jobs, and while some labor- intensive manufacturing will never come back to America, many other types will return if the incentives to ship jobs overseas are removed.
Finally, the country's small businesses need access to capital and a skilled workforce which require investments in training programs and education from Head Start through to Pell grants for post-secondary education.
To pay for much of this, the country needs to end the war in Afghanistan and redirect those funds to do "nation building" in America.  Business owners need customers with money to buy the goods and services that businesses produce, and the only way this will happen is with a strong and thriving middle class.
When asked about Stimulus Spending versus Deficit Reduction, Cicilline spoke to how austerity has severe consequences that are now playing themselves out everywhere.  In the short term, we need to make investments now to create jobs, combined with a long-term strategy to reduce the deficit in a balanced way by cutting spending and increasing revenue.  He also supports Quantitative Easing.
Gemma:
Gemma states that he is the only candidate who has created jobs in the private sector.  His jobs plan rests on several "pillars" including:
"Health and Wellness" industry: A high growth area in RI that includes the manufacturing of equipment and supplements.
"Education" as a path to creating jobs by increasing enrollment at the universities although he is unclear as to how he would convince the respective colleges to take in more students, admitting that he has not approached any of the colleges to discuss this aspect of his plan.  Students spend lots of money locally, so having more students enrolled should equal more money spent locally.
Alternative energy and green industry
Advanced manufacturing
Travel and tourism
Infrastructure
Gemma states that his plan will create at least 10,000 jobs in RI over five years at the low end, but he thinks it could be as high as 30-40,000 jobs.  He also assumes that much of the funding will come from foundations and private money since Congress is resolute in not investing in job creation.  Many of his proposals assume things that may not actually be possible however, such as increasing enrollment at Brown University by 10,000 students, and not contacting Brown University about this.
When asked about Stimulus Spending versus Deficit Reduction, Gemma's #1 priority would be to reduce the deficit, using a balanced approach of tax increases and earned benefit cuts.  When asked about Quantitative Easing, he said it is ok, although he is concerned about the inflationary effects of printing more money (although inflation is at super low rates).
Healthcare:
Cicilline:
Cicilline believes that everyone should have access to quality, affordable healthcare and references a public option and a single payer system as models that would ensure affordability and access.  The healthcare reform legislation includes components of a good system: enabling children to stay on parents' plan until 27, no denial of pre-existing condition or monetary caps, etc.  The cost of healthcare, while important, is a systems question not a provision question.  In order to lower costs, however, the system should be able to negotiate prices with drug companies like the VA system can, and there should be investments in wellness and technology.  America cannot reduce the level of care and must ensure that everyone has access.  We pay for universal care now due to emergency room visits, but there is a much less expensive way to handle this through universal coverage.
Gemma:
Everyone should have HC, but affordability is the biggest issue.  As President of Gem Plumbing, insurance premium rates were growing rapidly, so he created a program call Benefits by Design that incentivized employees to be healthier and engage in preventative measures.  The current HC system is lacking in preventative measures.  We should incentivize people to be healthier and take responsibility for their own health. Gemma did not endorse a single payer system, although he states that he would have voted for healthcare reform and the public option had he been in Congress at the time.
Education:
Cicilline:
We need to be serious about investments in early childhood education as they are the best investments in children we can make in terms of educational outcomes.  We expend a lot more later on for remediation because of our failure to spend enough on the early years.  Invest early for every child in the country to maximize the return on investment for children's learning.
Build a system that cares for children from when they wake up to when they go to sleep. They need a learning environment created to provide learning experiences outside of school.  Look at AfterZone and the PASA.  Kids need the support, especially those in households in which both parents are working, or parents are working multiple jobs, etc.
Charter schools have some great examples, but the innovative ideas are not being transplanted to the public school system, nor are charters held to the same standards.  Different learning environments are great for children, but the majority of children will be taught in public schools.  We cannot abdicate our public responsibility for teaching children.
Public money should never be spent on the private school system.  Public school choice presumes that parents have the same capacity and information about their child's education, so the system will likely not work as theorized.  Rather, every public school should offer every child a high quality education.
The funding of school based on property taxes has created segregated school districts where the wealthiest areas have the greatest capacity to invest in their public schools compared to poor neighborhoods.  Ed quality should not be based on zip code.  A state funding system should help remove that inequality.
Gemma:
Every available dollar needs to be invested in public education.  Certain cities have failed their students and multiple generations due to underperforming school system.  Re-educate adults who cannot read and write and make them more productive members of society.  He believes in school choice for both public and private schools, funded by public money, and is supportive of Head Start and charter schools, claiming there are models that work. He cites the Mayor of Cumberland as a person who has a vision of education with which he agrees, although he doesn't explain exactly what that means. He is also supportive of equal funding.
Taxation Policy:
Cicilline:
Raise enough revenue to do the things we need to do and those who have benefitted the most from this country should pay a proportionally larger share than those who earn the least.  He supports progressive taxation.  Growing inequality is exacerbated by taxation policy that taxes the wealthy less than other workers.  All income, however it is earned, should be treated equally rather than providing favoring tax rates for hedge fund managers and those who earn income by already having wealth, and taxing other workers at a higher rate.
Cicilline supports a financial transactions tax to limit the destabilizing speculation that occurs in financial markets and has cosponsored two bills to limit oil speculation.  Supports new tax brackets for higher earners.  Supports letting the "Bush Tax Cuts" now the Obama Tax Cuts expire for people earning over $250,000, although he feels there is some legitimate concern about those earning between $250,000 and $1 million that should be acknowledged.
Gemma:
Gemma believes that the tax cuts for those making above $100,000 should expire (this is roughly 20% of the CD1 population), while those making less than $100,000 should see their current tax rates maintained.  Additionally, Gemma feels that those making less than $50,000 should see their taxes decrease.  Capital gains should be divided into two "buckets."  Bucket 1 = zero cap gains taxes for new business creation that exist for more than 3 years and which create jobs.  Bucket 2 = phased in capital gains taxes to higher pre-Bush tax cut level in order to limit disruption to stock market.  Gemma feels that oil speculation is a major problem, but his response to having a financial transactions tax is unclear.
Foreign Policy:
Cicilline:
Cicilline only supports military actions in foreign nations when it is necessary to protect the national interests and security of the people of America.  He is a strong advocate for ending the war in Afghanistan and did not support military action in Lybia.  Syria is a challenging question due to the slaughter of innocent people and human rights abuses.  America has some moral responsibility to take actions to protect human life, even though we cannot do it everywhere.  Ideally, the US as part of a global coalition, can play a role in preventing these types of abuses.  In the Sudan, the US should play a role, but we have not currently done so.
Drones change the way the military thinks about warfare.  When people went onto the battlefield, limits were placed on interventions.  The depersonalization of drone warfare impacts the frequency of it.  The decision made about when, and against whom, to use drones are difficult to reconcile with basic constitutional tenets.  There needs to be some oversight of President's kill list so that the people who are targeted are actually intending to do harm to the US, although any system like this would be an imperfect system.  Cicilline opposes indefinite detention and believes the defense budget should be cut.
Gemma:
Gemma does not support interventions in Iraq and Lybia but does support military action in Afghanistan.  Syria is a deep concern, although he feels that we don't know everything so much of this is speculation.  Gemma feels that military action should be a last resort.  He is opposed to indefinite detention.
Campaign Finance Reform:
Cicilline:
Rep. Cicilline is cosponsor of several bills aimed at reforming the way campaigns are financed.  The Disclose Act requires the identity of donors to Super PACs to be made almost immediately so people know who is behind campaign ads.  Cicilline cosponsored two constitutional amendments to overturn the Citizens United decision and does not believe that corporations are people.  He proposed legislation, the Fair Elections Act, which would create public financing model for campaigns.
Cicilline believes the biggest challenge facing America right now is the funding of elections, and if we want to fix any of the other problems, we're talking about we need to address how campaigns are funded and by whom.  The influence of big money and secret money devastates our democracy.
Gemma:
Gemma supports an amendment to repeal Citizens United.  Gemma does not accept PAC money and has self-funded much of his campaign.  He believes there should be public funded campaigns so that more people can run.
Environment
Cicilline:
Rep. Cicilline believes that it is critical to protect the EPA so that it can enforce clean water and air regulations, make serious investments in clean renewable energy, and support local farmers.  He is opposed to the Keystone Pipeline, stating the very serious environmental concerns attached to the project, maintains that the jobs numbers are inflated, and that it is unlikely to reduce energy costs.  He points out that Republicans even defeated an amendment to ensure that the oil running through the pipeline would stay in the US.
Cicilline supports reinstating tax credits for renewable energy projects and extending them for longer periods of time so that there is more stability in the funding of long-term renewable energy projects. He suggests that we could eliminate the $40 billion in subsidies to oil companies and invest that money in renewable energy technology.  Cicilline believes that over time it may be possible to phase out nuclear energy if sufficient investments are made in the development of renewable energy technology.
He is skeptical of ethanol subsidies and supports labeling of genetically-modified foods and milk derived from cows injected with Recombinant Bovine Growth Hormone.
Gemma:
Gem Plumbing has invested in sustainable energy and personally, Gemma is passionate about the environment and sustainability.  Gemma believes the Keystone Pipeline project should move forward, as long as it has the correct environmental protections. To lessen burden on foreign oil overseas, he said, the US should import more oil from Canada.  He believes the dirty tar oil may be able to be burned cleaner.
Gemma supports reinstating tax credits for renewable energy projects, ethanol subsidies, and the labeling of genetically modified foods and milk derived from cows injected with Recombinant Bovine Growth Hormone.
Progressive Caucus:
Cicilline:
Rep. Cicilline will remain a member of the Congressional Progressive Caucus.
Gemma:
Gemma would join the Congressional Progressive Caucus.
RI Progressive Dems Endorse Cicilline

,