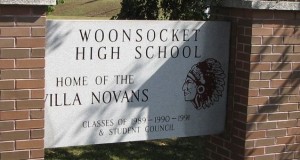 One way Woonsocket could help fix its budget deficit will be discussed at the school committee meeting here tonight. School Committee President Anita McGuire-Forcier said she put an item on the agenda that would ask the state to take over the local public schools as it did with Central Falls in the early 1990's.
"We're asking the state for help," she said after leaving a meeting of the state-appointed budget commission. "They left us in this mess they should help us out of it."
Woonsocket schools have a $10 million deficit this year, which is a major reason the city may need to file for receivership. The school budget is about $60 million annually.
McGuire-Forcier said the state has short-changed Woonsocket on the amount of education aid it gave the struggling city in its previous aid formula. While the department of education has agreed to pay Woonsocket the difference, it wants to do so over the next 7 to 10 years. Woonsocket and Pawtucket are suing RIDE saying it needs to pay up sooner than that.
She also said the state is hurting all urban areas with cuts to municipalities.
"When you do across the board cuts to state aid it doesn't hurt the suburban districts but it really hurts the urbans," she said. "They are turning us into ghettos."
The School Committee will consider the proposal tonight at its meeting.