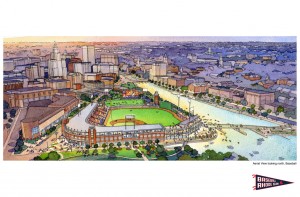 Looking out the window of my office at 10 Davol Square, I can see the empty piece of Providence where they want to build the new baseball stadium.
Just five weeks ago, this particular parcel of land, left vacant by the relocation of a stretch of interstate, wasn't any more or less interesting to me than any of the other plots in the Jewelry District. Now, of course, it ignites the imagination of this and many other Rhode Island baseball fans on a daily basis.
When the new Pawtucket Red Sox owners' proposal came out this week, I didn't have any strong feelings about it. It sounded like a lot of money, sure. But I know that any successful stadium project relies on some form of public subsidy. $4 million a year (net $2 million, if the economic study commissioned by the owners group is accurate) didn't sound like too steep a price to keep a critical Rhode Island institution.
But my fellow progressives quickly tore into the proposal like rowdy fans heckling the opposing team's pitcher. Now, negative reactions to the proposal have come from all points along the political spectrum. But while I certainly didn't expect all of my friends on the left to endorse plan without some criticism, I'll admit I was surprised by the steady barrage of unequivocal NO!'s that have come from the left.
Instead of taking a thoughtful, considered approach to this proposal, or carefully positioning ourselves to make a reasonable counter-offer, why are so many progressives rejecting the whole plan outright, unwilling to even hear an argument?
"Because we're fed up!" some of my fellow liberals will undoubtedly say. Hey, I get it. The frustration is understandable and very real. But letting that frustration get the better of us is a huge mistake. Staking out a position of extreme opposition just feeds the worst stereotypes perpetuated about progressives: that we're out of touch and inflexible. That makes us easy to marginalize and ignore.
This is not 38 Studios. I know, it seems like an easy connection to make–they both have to do with baseball! Except beyond that thin connection, the two scenarios couldn't be any more different.
Rhode Island made a loan guarantee to a sports hero who had zero experience running a business, he just happened to like video games.
In this case, we're talking about giving tax breaks to a group of experienced business people who have already proven their success, who clearly know what they are doing, and who are throwing down their own $85 million to get the thing off the ground. Instead of a software company that will employ a handful of people until it inevitably collapses, this time we're getting a physical sports facility that will enhance our city and state.
Comparing this–or anything–to 38 Studios is the cheapest and easiest piece of political rhetoric that can be employed in Rhode Island. It gets lobbed from the left, the right and the middle. The comparison absolutely does not apply here. I don't expect that fact to stop people from making it, but I will hope against hope that progressives, at least, can ditch this cliche in favor of something a little more thoughtful.
There will always be "something better" to spend the money on. Yes, I know the schools and the roads and the bridges are literally crumbling. I know the health care system is in shambles. I know that way too many people will sleep on the streets tonight. We absolutely need to make serious investments in all of these areas. But making any of those things an either/or tradeoff against this baseball stadium is wrong-headed and in some ways disingenuous. How often do we criticize conservatives for making the allocation of public funds a zero-sum game? And yet here are doing the same thing.
According to this rationale, we have to have full employment, state of the art schools in every community, 100% graduation rates, free college tuition, zero homelessness, a cure for cancer, all of our energy coming from renewable sources, guaranteed pensions for every Rhode Islander and protected bike lanes in all 39 cities and towns before we can even begin to think about a new baseball stadium. I disagree.
Can we please stop demonizing those we don't agree with? This does not just apply to some of the personal insults I've seen hurled at Mr. Skeffington. This is becoming a really troubling trend among progressives. I know it can be satisfying to go on social media and make public figures out to be villains; it's also petty, dickish, and the absolute definition of counter-productive. I expect it from right-wing talk radio. I'm appalled and disturbed by it when it comes from liberals and progressives. Please stop.
We have to consider the noneconomic benefits. I recognize that baseball is a business. I also know that baseball is a vital American institution. And whether they're called the PawSox, ProvSox, RISox or Rhody Sox, our beloved baseball team is a treasure that must be kept in Rhode Island. The proposed new facility will have economic benefits for Providence and Rhode Island. Just as important are the social and cultural benefits which are difficult (if not impossible) to quantify–these cannot be overlooked. Again, it's not a zero-sum game.
Let's find a way to make this work. Let's recognize the importance of professional baseball to our cultural and civic landscape. You don't have to be a huge fan of the sport to be able to acknowledge the contribution baseball has always made to our history, our society, and our way of life–and to understand that to lose this team would be a devastating psychological blow to the Ocean State. I think most of those who will read this do understand. I think knowing just how much it would hurt to lose our Sox is exactly why the reactions have been so visceral. "How dare these rich people extort us like this!" some say. And rather than be backed into a corner, throw up their hands and say "Fine, take the team somewhere else! We don't need you!"
Believe me, I do understand this sentiment, even if I don't agree with the characterization that this is extortion. It's business, and we've been wrestling with the tension between baseball-the-beloved-national-game and baseball-the-money-making-enterprise since the first professional leagues came about. But to dig in and shout "no!" instead of finding a way to move forward is a mistake. To give up on keeping the team because of some misguided principled stand would just feed another pervasive stereotype about those of us on the left: we're all too ready to cut of our nose to spite our face.
I recognize how difficult it may be for many readers to come around to accepting the team owners' proposal as it currently exists. That's fine. But if the root of the word "progressive" is "progress," then who better than progressives to craft an open, accessible, and constructive dialogue so that we can reach an agreement that benefits us all, rather than just toss our bat and retreat back to dugout just because we didn't like the look of the first pitch?
A progressive plea for a Providence ballpark

,