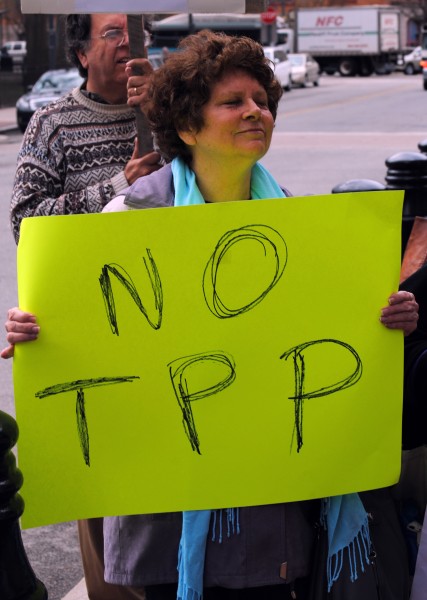 On Friday over 20 people representing Occupy Providence, RI Sierra Club, RI MoveOn, RI Progressive Democrats of America and the RI Coalition to Defend Human & Civil Rights gathered outside the Federal Building near Kennedy Plaza downtown to protest the Trans-Pacific Partnership (TPP) that protesters described as  "a corporate power grab disguised as a trade deal."
Twelve nations are negotiating the terms of the TPP, including the United States, Japan, Australia, Peru, Malaysia, Vietnam, New Zealand, Chile, Singapore, Canada, Mexico, and Brunei Darussalam. According to the Electronic Frontier Foundation (EFF), TPP "is a secretive, multinational trade agreement that threatens to extend restrictive intellectual property laws across the globe and rewrite international rules on its enforcement."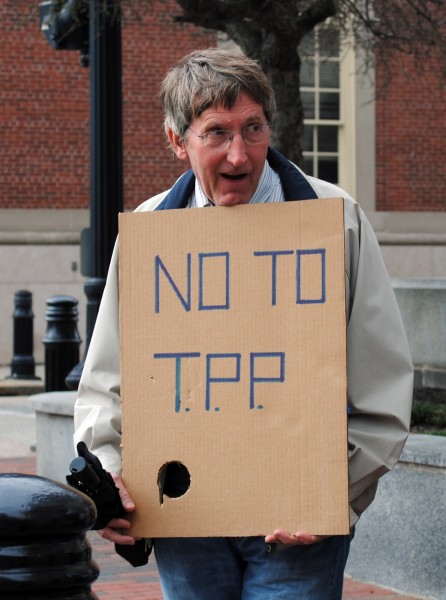 The EFF has identified two main problems, that "leaked draft texts of the agreement show that the IP chapter would have extensive negative ramifications for users' freedom of speech, right to privacy and due process, and hinder peoples' abilities to innovate" and that the "entire process has shut out multi-stakeholder participation and is shrouded in secrecy."
According to Pat Fontes, speaking at the protest, "No one has officially read the TPP." Everything we know about the deal has been leaked to the public. Even our elected representatives, who will be voting on this trade deal, have not read it or understand what's inside. In Rhode island, only Representative David Cicilline has come out against the TPP.
"Corporate courts," says Fontes, "will impose fines that we the taxpayers will have to pay." Corporations will have the ability to sue governments over laws that prevent companies from making "expected profits."
Susan Walker, a student in Public Health Policy at Brown University says that "corporations will be helping to make policy." There will be an impact on public health, as "generic drugs may be eliminated" as new rules governing patents are enacted. "Medicine will never become affordable and generic," says Walker.
Chris Curry, of RI MoveOn, says that TPP "is based on the assumption that corporate profits take priority over everything else." If ratified, TPP "will threaten our social safety net, including Social Security and Obamacare" as corporations sue the government over profits lost to these programs.
Barry Schiller of the Sierra Club says that TPP may allow corporations to force the repeal of environmental laws when they are deemed unprofitable.
Everette Aubin said that "TPP will make it impossible to move to green energy. If solar panels interfere with corporate profits, you'll have to shut it down."
Occupy Providence's Randall Rose pointed out that "parts of the TPP are classified and not to be seen by the public until four years after passage."
"They don't want people to know about this," said Rose, adding that since the trade deal NAFTA was passed, Rhode Island "lost more than half of our manufacturing jobs."
TPP has been described as NAFTA on steroids.
Robert Malin, of the Sierra Club, said that TPP places "corporations above the laws that citizens pass."
Though TPP is far from a done deal, the New York Times said, "key congressional leaders agreed on Thursday on legislation to give President Obama special authority to finish negotiating [TPP], opening a rare battle that aligns the president with Republicans against a broad coalition of Democrats."
With a Republican controlled congress and President Obama in agreement, preventing the passage of TPP will require a big effort on the part of opponents.
You can download a fact sheet on TPP prepared by Occupy Providence, here.