Both candidates for governor are enthusiastic about the union of education and business. One of Republican Allan Fung's proposals is to have a "Jobs and Education Cabinet" in which business and education leaders would work together to make sure that graduating students are employable, while Democrat Gina Raimondo would work from a different angle, concentrating on community college job training programs.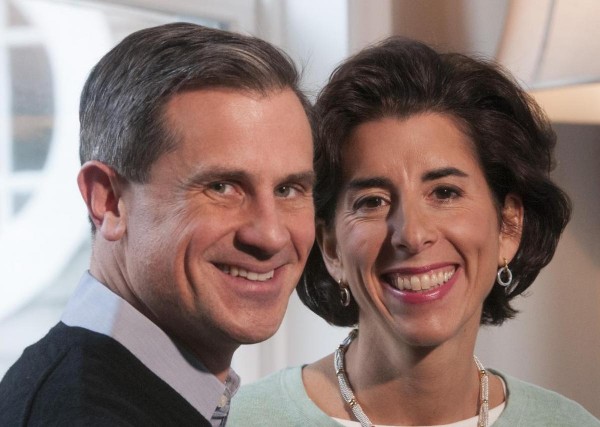 Another difference between the two is that Raimondo has an expert coach in her corner. Her husband Andy Moffit is deeply involved in the business of education reform.
Moffit is a Senior Practice Expert and co-founder of the Global Education Practice at McKinsey & Company— consultants to CEOs, governments, companies, national foundations, and non-profits. He taught for Teach for America for two years, studied education law and policy at Oxford and Yale, and served on the board of Jonah Edelman's Stand for Children.
In terms of corporate education reform, one prominent McKinsey-watcher and follow-the-money researcher puts the firm in a class by itself:
"They have been the leaders in crafting the dominant narrative of an education crisis for decades, and now deeply entrenched in education reform policies, they are reaping the financial and political benefits of marketing solutions to the problems they manufactured in the first place."
Lacking a genuine crisis, various crisis-mongering claims about the failure of American schools will do, especially since these are generally supported by Arne Duncan's Department of Education and widely publicized by the well-funded reform advocacy groups that promote charter school choice as an alternative to traditional public school education. McKinsey & Company are masters of packaging crises in high-profile reports, which they "launch" with prominent guest speakers and great fanfare. One education example is "How the world's best school systems keep getting better" (2010) is focused on PISA (Programme for International Student Assessment) test scores and what can be learned from the high scorers. Though not an author, Andy Moffit was credited for his work on this while Arne Duncan and Rhode Island's Deborah Gist were panelists at its "launch."
Along with Paul Kihn and Sir Michael Barber, Moffit was one of three authors of "Deliverology 101: A Field Guide for Educational Leaders" – a how-to-get-things-done manual for school districts and systems based on the management techniques Barber developed for British Prime Minister Tony Blair (1997-2007). Barber, former McKinsey Partner and head of their Global Education Practice, is now the chief education advisor for Pearson's—the international giant of testing and educational materials and the preeminent beneficiary of the current testing mania. Paul Kihn left McKinsey's in 2012 to serve as William Hite's deputy superintendent in the Philadelphia school district, a position he held during the recent tumult of school closings, draconian budget cuts, and union wars, while Moffit has remained with McKinsey.
As Raimondo and Fung speak of getting business and education together, it is clear to those of us with an eye on the corporate reform movement that they are already together. It is naïve or disingenuous to discuss educational policy without dealing with the profit motive. Big data and standardized tests are at the core of an ever-expanding industry rife with new start-ups, collaborations, and consultations involving tests, testing materials, hard-ware and soft-ware, real estate, no-bid contracts, tax benefits, and venture philanthropy. Budget cuts to public education, combined with privatization, union-busting and the deregulation of schools and teaching credentials are the order of the day.
It would be interesting to know specifically which consulting projects Moffit worked on for McKinsey over the years but there is surprisingly little about him on McKinsey sites. Although he was nominated to serve on the R.I. Board of Regents by ex-Governor Carcieri, that was when the General Assembly was no longer approving such nominations. He withdrew his name after Chafee was elected, apparently because of differences in views. He withdrew from the controversial Stand for Children board very quietly, without comment, and he has kept a low profile in both Raimondo campaigns.
We know more about Raimondo's deceased father than her husband. Of course because Moffit makes a living as an education consultant/reformer, supporting various Obama/Duncan initiatives, reorganizing urban school systems, and developing sustainability plans for the new Common Core tests, does not mean that Raimondo has the same opinions. But how would we know? Has she ever been asked?
About Andy Moffit

,