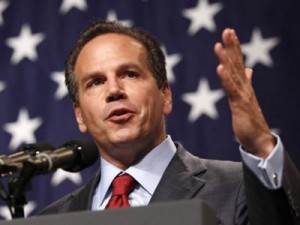 Almost three months ago, our nation celebrated the 40th anniversary of the establishment of Pell Grants, a program that has opened the doors of higher education to more than 60 million students. Speaking on the Senate floor the day legislation establishing the program was signed by President Richard Nixon, our state's own Senator Claiborne Pell said "I have worked on this specific legislation for three years. To have it signed into law and know that in the future, higher education will be available to so many more people, is a most gratifying event."
Senator Pell's vision and hard work more than four decades ago ensured that generations of Americans could attend college and avoid worrying about being saddled with loans. Today, as the cost of higher education continues to rise, we need to follow Senator Pell's example to ensure that Rhode Island families can afford to send their children to college.
During my first term in Congress, I have fought to maintain our investments in Pell Grants and higher education. I also worked hard to ensure Congress passed legislation that would prevent the student loan interest rate from doubling. Already this legislation has ensured that more than 7 million students, including more than 43,000 Rhode Islanders, did not incur an additional $6.3 billion in student loan repayment costs this academic year.
Unfortunately, at this critical moment for America's students, many of my Republican colleagues in the United States Congress have proposed budgets and policies that would further hurt Rhode Island's young people. For example, the Republican budget proposal introduced by Representative Paul Ryan (R-WI) would have cut approximately $166 billion from student loans and Pell Grants over ten years. The Ryan budget's insistence on squeezing middle class families and imposing additional financial burdens on students is wrong and it doesn't reflect our nation's values and I have been proud to fight against it – as I mentioned during a meeting last April with students at Roger Williams University.
Representative Ryan's plan would change eligibility requirements for Pell Grants, so that fewer middle class American families would qualify. Shifting money away from Pell Grants would force students who are already under a heavy debt burden to take out additional loans. And yet, after forcing students to take on more loans, Representative Ryan and the Republican leadership repeatedly indicated they were willing to allow subsidized Stafford student loan interest rates to double.
That's why I spoke out on the House floor last spring to urge consideration of H.R. 3826, a bill that I co-sponsored, in order to prevent student loan interest rates from doubling.  And a few weeks later, I hosted a call to action at Rhode Island College with area students, parents, and business leaders to rally support and awareness about this issue.  I was delighted when Congress finally reached an agreement to extend low-interest student loans for an additional year.
It's clear that Republicans and Democrats need to continue to work together bring tuition costs under control.  According to the National Center for Education Statistics, in the decade between 2000 and 2010, the price for undergraduate tuition, room, and board at public colleges and universities rose by 37% and at private colleges and universities by 25%.
In real numbers, that has meant an average of $4,000 more money per year for tuition when adjusted for inflation in just the last 10 years. Higher education is quickly becoming unaffordable at just the moment when we need to work even harder to ensure young people have the skills to compete in a rapidly changing 21st century global economy.
As you may know, earlier this year, President Obama proposed tying eligibility for federal aid programs to colleges and universities ability to demonstrate the ways in which they are making tuition more affordable. While we work to protect investments in higher education, I agree that we need to ensure beneficiaries are held accountable and are working hard to cut the cost of tuition for students. Senator Pell advocated for a funding model that was not based purely on enrollment but also on performance, student outcomes and degree completion.
Cutting the costs of tuition for families, however, should not mean a lower quality education for students. The approach should be multifaceted. We should continue to study ways we can use new technology and other innovative delivery models to drive down the cost of education. But we should also make sure students are informed about their options. The Consumer Financial Protection Bureau is in the process of completing a project that will mandate side-by-side comparisons of the costs associated with the decision to attend individual colleges so they can make informed choices and spur competition.
There is little doubt that the financial burdens associated with higher education being faced by too many Rhode Island families are real. In memory of the late Senator Pell, we need to roll up our sleeves and work together to lower the cost of higher education so that future generations of Rhode Islanders can acquire the skills they need to succeed.
Access to Higher Education

,