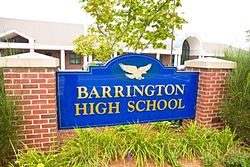 The Barrington School Committee finally has a legal opinion on its idea to allow a small number of out-of-town students to to pay tuition to attend its high-performing public schools. It's from the RI ACLU.
"The Barrington School Department has no obligation to establish a special program to accept students from out-of-town, but once it does so, it cannot simply declare students with disabilities off-limits," wrote Steven Brown, the executive director of the local affiliate of the ACLU. "While in some circumstances schools may have some leeway in dealing with special-needs students, such as when significant problems might arise in providing them necessary accommodations, we are not aware of any basis whatsoever for a school to have a policy of automatically and categorically excluding special education students from an enrollment policy. Such blatant discrimination flies in the face of the numerous laws designed to treat such students equally, not segregate or stigmatize them."
Brown's letter assumed Barrington would not accept students with special needs, which was the initial idea. But after School Committee President Patrick Guida had a conversation with RIDE officials, he said they would likely accommodate for a percentage of students with special needs so long as they could pay the cost of their education there.
Brown wrote, "I realize that this policy is still a work in progress, but I would appreciate learning the basis behind the decision, however tentative, to exclude special education students."
The Barrington School Committee will discuss the matter at its meeting on Thursday night.
ACLU Questions Legality of Barrington Tuition Idea

,