One of the nice things about owning several properties is that when it comes to politics, you have lots of choices about where you can say you live. I'm not talking about the formal definition of legal residence, but "addresses of convenience."
Having an address of convenience gives you the choice of where to vote or where to run for office. You can shop around to find the most advantageous choice. Not necessarily a legal choice, but one that is rarely ever challenged.
We have lots of examples, such as Republican Kernan "Kerry" King who ran against Gina Raimondo for general treasurer in 2010 even though he was actually a legal resident of Florida and was even collecting a $50,000 a year homestead property tax exemption on his Sarasota County home. He was claiming his Saunderstown house as his legal residence on his campaign declaration.
In my state Representative District (36), we now have a carpetbagger state Representative, a Tea Party Libertarian named Blake Filippi. Filippi claims he lives in his mother's house on Block Island even though he has listed his mother's house in Lincoln as his legal address on dozens of legal documents including his Massachusetts lawyer's license. He told Bob Plain he is currently living in a Providence apartment.
Addresses of convenience. It's nice to be able to pick and choose. It's not just Republicans and Libertarians that do it; Democrats also do it.
Take Doug Gablinske, for example. He made a big splash in Rhode Island politics during his two terms in the RI House representing District 68 in Bristol as one of the most vociferous DINOs (Democrat in name only), leading the attack against public workers.
As a result of the 2010 US Census, Gablinske's district boundaries were changed. In an e-mail to me he said, "I was carefully gerrymandered out of District 68, with the input of Rep. Morrison into the redistricting process, who was afraid I was going to run against him in 2012.  The gerrymandering is obvious, as the line moved over one street, to redistrict me out."
His home at 45 Kickemuit Avenue in Bristol is no longer in District 68, but moved instead to District 69. Gablinske and his wife Patricia moved with the times and changed their voter registration to 44 Greylock Road which is Gablinske's mother's house, solidly within District 68 where they have cast their ballots in 2014.
In his e-mail to me, Gablinske asserted that his change in registration had "nothing at all to do with that and everything to do with helping to care for my 86 year old mother, which is where she resides and I own the house with my siblings."
Despite the change in voter registration, Doug Gablinske kept using his address as 45 Kickemuit Avenue on many campaign contributions he made since re-registering at Greylock Road (example).
There are a dozen major political donations by Gablinske listed in the Board of Elections database for 2014. Gablinske's residence shows up as Kickemuit on five of those major contributions; his business address on Metacom Avenue is listed on the other seven.
Greylock Road is not listed on any of these donor files.
I asked Gablinske about the checks written from his business address (it is illegal for businesses to make direct donations to Rhode Island political candidates). Gablinske said that he keeps three checkbooks, one for each of these three properties and acknowledged that it would be illegal if he made a donation through his appraisal business.
He added: "For the record, at your request, I reside at both 44 Greylock Road and 45 Kickemuit Avenue and my voter address was changed to 44 Greylock Road, on may May 8th, 2014.  My brother Wayne Gablinske, sold his house on Sandra Court, Bristol on February 27, 2015.  He has now moved into 44 Greylock Road to care for my mother, so I have returned to 45 Kickemuit Avenue and am changing my voter address back to that address, all of which is perfectly legal."
Even though he checked his voter registration to Greylock Road in his old district, Gablinske did not make a run to regain his lost House seat in 2012 or 2014, apparently content to run his appraisal business and engage in lobbying. Gablinske said in his e-mail to me, "I have no plans to run for public office…in any district!"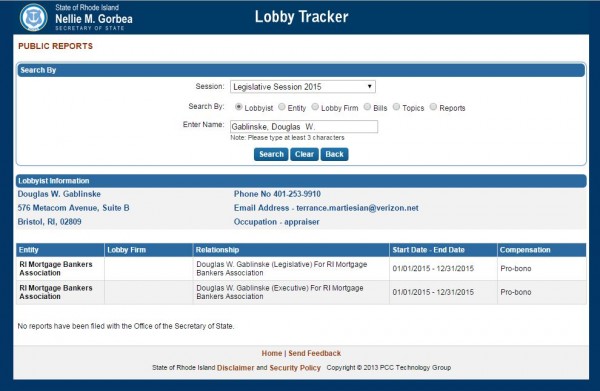 After losing the 2010 Democratic primary, Gablinske started to work with Terrance Martiesian's lobbying firm, filing reports with the Secretary of State since 2011 that he lobbied the General Assembly on behalf of the RI Mortgage Bankers at no charge.
Although, on paper, Gablinske is lobbying for the bankers for free, Martiesian's lobbying firm is billing the RI Mortgage Bankers Association $50,000. What Gablinske gets out of the arrangement does not appear to be covered in the reports to the Secretary of State.
Gablinske asserts that he gets nothing from Martiesian and lobbies for free for the Mortgage Bankers Association because he sits on their board and co-chairs their legislative committee. As an appraiser, Gablinske obviously does a lot of work with mortgage bankers but, he says, "you are trying to connect dots, that do not connect."
If Gablinske decides the time is right to try to return to the General Assembly since he's apparently not getting rich from his peculiar lobbying practice, it would be interesting to see which address he uses.
Either address – Kickemuit or Greylock – could be challenged by some sharp-eyed voter based on all the conflicting public records and even Gablinske's own statement that he lives in both places. But any such challenge would have to be filed very quickly.
After Rep. Donna Walsh learned about Blake Filippi's declaration of residence and filed a complaint, she was told by BOE Director Bob Kando that under the Board of Election's rules, there is only a 24-hour window to file a challenge to a candidate's declaration of candidacy.
While the bizarre way the Board of Elections rules are written gives candidates the edge to get away with running for a seat in a District but not living there, there is the matter of state law and voting.
Under the Rhode Island General Laws, it is a felony to vote or attempt to vote anywhere "other than in the…representative district, or voting district in which the person has his or her 'residence'"…. Gablinske will have to make up his mind where he really lives before the next time he votes.
One added irony about Gablinske's flexible residency is that during his time in the State House, he was an outspoken supporter of Rhode Island's voter ID law.