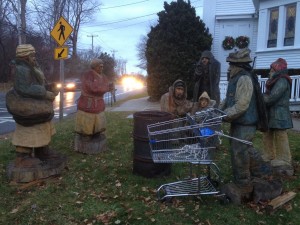 "The most important person to come out of Illinois, in my opinion, was Abraham Lincoln. While he was not born there, he was raised there and was a resident of Springfield, when he was elected president. I will recommend that you receive a visa. However, since this is a most unusual request, a letter will be sent to the Chicago office telling them of your coming. They will probably want to talk with you, when you arrive," he said.
Harold escorted them to the door.
"I know you feel a sense of urgency, but I cannot speed up the visa approval process. Your visas will be ready in six weeks." Pleased they would be able to travel to the United States, but disappointed about the wait, they left the embassy.
During the next six weeks they made their travel plans. Even though the visas would have been available around December 17, the first flight to Chicago that was not full left December 23. Ani"s charts said, of all the possible dates, December 24 and December 25 were the best. This would make the timing very difficult, but they trusted in the spirit that had led them to this point and booked the flight. As it turned out, their visas were not ready until December 20.
They arrived at New Delhi"s Indira Gandhi International Airport on the evening of December 22. They wanted everything in order, so they would not miss their 5:50 a.m. flight the following day. Their Air India flight was uneventful, and, after almost 10 hours in the air, they landed in London from there they continued on to Chicago. The plane was on time, landing at 2:30 p.m. – and it was still December 23.
Leaving the plane, they joined the long line waiting to go through immigration. When they got to the immigration agent, she scanned their passport and waited. After several minutes, the agent looked at them closely and said they would have to meet with the director.
There had been a snafu and their paperwork had not arrived, said the director, when the three were seated in his office. They would have to wait in the airport detention area until the letter arrived. Several officers from the airport security then ushered them away.
Isma"il and Appar were placed together in a small cell with no windows and Ani was placed across the hall alone. It took all her meditative powers not to be overwhelmed by this situation. Being locked away like this brought back the horrors of her cruel 10-year confinement in the Chinese prisons in Tibet. Besides the person who brought them food and drinks, they saw no one the rest of the day.
The following morning they were escorted back to the director, who told them that the letter had arrived. But he still felt uneasy about their reason for traveling to the United States.
"While I have to let you into our country, I want you to keep in contact with our office. You say you will be going on to Springfield. Let us know when you arrive, and if you find the couple you are looking for. We would be interested," he said.
After checking with airport information and exchanging some money, the three travelers took a cab to the Greyhound Bus station in downtown Chicago. To their disappointment they found they had missed the afternoon bus to Springfield. So they bought tickets and waited until evening for the next bus. They finally arrived shortly after midnight.
Stepping out and looking around it was evident that they had not arrived in downtown Springfield. Isma"il"s vision had been of a couple and a baby in the midst of a city. The fact that they bus station was out on the outskirts was another disappointment. The three stood in the cold, dark December night, strangers in a strange place, wondering where to go.
"We are close," Ismael stated determinedly. "I can feel it." The others nodded their agreement.
"In America, people usually go to a hospital for childbirth," Ani thought out loud. "But in my vision I saw this couple outside, not in a building," protested Isma'il.
"We have to start somewhere," Appar stated matter-of-factly. "There is a taxi. Let's go to the nearest hospital and ask about newborns."
Realizing they had no other choice, the three travelers approached the only taxi at the bus station and asked to be taken to the local hospital. When the driver asked which one, they said the one closest to downtown.
Ten minutes later they were dropped off at the emergency room entrance of Memorial Medical Center. Going inside, they approached the admittance desk and Ani asked the nurse in charge if there had been any births that day.
Looking up from her chart writing the nurse froze, pen still on paper. Before her stood what must be a woman by the sound of her voice, although her appearance left that to question. The nurse saw a small, slight person with shaved head and long red robes; beside her stood two men, also in long robes. Without a word and somewhat anxious, she studied these most unusual people standing in front of her. After an uncomfortably long pause the nurse carefully asked, "What was that about births?"
____________________
Check back here tomorrow for the final installment in Rev. Bill Sterritt's modern adaptation of the nativity story. RI Future is serializing Sterritt's 26-page short story throughout the holiday season.  Here's my post on the Amicable Congregational Church's nativity story and scene.