Every year, we watch A Charlie Brown Christmas, or It's A Wonderful Life, or Miracle on 34th Street, or any of the various other Christmas movies that have become staples of holiday watching. So, in the interest of varying your Christmas pleasure here are a few nontraditional Christmas films that I think are reasonably fun, in ascending order.
In Bruges (2008)
Martin McDonagh's black comedy about a couple of hitmen who hide out in a Belgian city known for its preserved medieval buildings after a job gone wrong is probably the point where I stopped thinking of Colin Farrell as a pretty boy and started taking him seriously as an actor.* It's also the point where I realized that Brendan Gleeson was arguably more brilliant. Ralph Fiennes is also great as their boss in the mob. On this list, it is the most complete movie.
Under no circumstances should this be watched with your children. American viewers are bound to be offended by the use of the "c-word" (which is used liberally in the third act), and likewise, the amount of gore significantl ramps up as the movie progresses. I include this as a Christmas movie merely because the final part of the movie takes place at that point; but the movie has about as much to do with Christmas as Die Hard (another action classic). It also features the most devastating deployment of the song "Raglan Road".
Meet John Doe (1941)
Gary Cooper and Barbara Stanwyck star in this Frank Capra film that anticipates themes both in Capra's later Wonderful Life and Elia Kazan's A Face in the Crowd.* Stanwyck plays a laid off journalist who creates a hoax of a letter by the author "John Doe", decrying the greed and avarice in the world and threatening to kill himself on Christmas Eve. When her editors receive an outpouring of support for John Doe, they decide to take the hoax to the next level, and hire drifter Gary Cooper to play John Doe; but it's not just newspaper sales they have in mind.
Heavy-handed moralizing, with a "magic homeless man" thrown in for a Hollywood screenwriter's imagination of what it's like to be on the street, Meet John Doe succeeds in spite of its flaws, largely thanks to the likeability of Cooper. It's classic Capra, with quickly shifting fortunes and characters who appear bad becoming good. You can watch the whole movie online, since it's lapsed into public domain.
Joyeux Noël (Merry Christmas) (2005)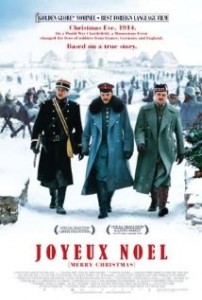 This British-French-German movie about the 1914 Christmas Truce is my favorite Christmas movie. War, sex, and singing. What more can you ask for from a Christmas movie (though I admit that the last is pretty normal)? Like most Christmas movies, it's not a perfect movie; but like singing, this is typical and can be shrugged off. The lion's share of the movie is set during the Christmas Truce, as the Entente and Axis forces met each other in No Man's Land. Unlike most Christmas movies, this film is transfixed upon the message of "peace on Earth and goodwill towards men" that's largely void from classics like Home Alone.
The movie's critique of war is powerful, as is the moment where the first German soldier steps into No Man's Land singing "Silent Night". It has a bit of trouble getting to the end, stumbling with some repetitive trudging from trench to trench. But the final scene plays out strongly, with a song about as touching as John McCutcheon's "Christmas in the Trenches".
*Earlier, I confused the name Colin Firth with Colin Farrell. Farrell stars in In Bruges. I also confused the names of Gary Cooper and Gary Oldman. Obviously, Gary Oldman did not star in a 1941 Frank Capra movie.