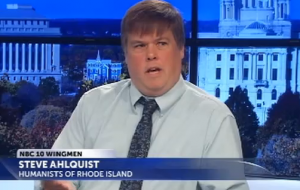 Travis Rowley is a writer who I don't pay much mind to. He is a sometimes amusing distraction whose hyperbolic attacks on liberals and progressives are too extreme and careless to be of interest to any but his small coterie of fans. The manic style of his arguments owes less to the surgical precision of a rattlesnake bite than to the scattershot spraying of an incontinent skunk, but as I am occasionally the target of his arguments, from time to time I feel the need to attempt a reply.
In his recent screed, "Progressives: Liars By Religion and Trade" Rowley takes issue with my defense of the protesters who prevented New York Police Commissioner Ray Kelly from speaking at Brown University last week. In his piece I am taken to task by Rowley for my "dishonesty and double standards" because I had earlier criticized Providence College for canceling a talk defending marriage equality by philosopher John Corvino.
(I would like to note here that unlike Travis Rowley, I always endeavor to include links to the articles I am citing, a common practice on the Internet that allows people to check the sources of quotes and to draw their own conclusions about the context from which these quotes are mined.)
In his latest piece, Rowley maintains that I am being dishonest because I disagreed with the cancellation of the speech by Corvino at Providence College but argued for the cancellation of Ray Kelly at Brown, which is a double standard that confirms "just how unprincipled progressives truly are." Putting aside the fact that Rowley misrepresents my position in crafting his argument, and putting aside for a moment my contention that the two cancellations at the two schools are very different things, Rowley's assertion that my position represents a double standard completely ignores the fact that, if true, Rowley is maintaining the exact same double standard himself.
If, as Rowley argues, I am maintaining a double standard by supporting one cancellation and not the other, then Rowley is maintaining the exact same double standard, because he also supports one cancellation but not the other. If one were to accept the arguments in his piece, then Rowley is just as guilty of dishonesty and double standards as I am accused of being. The arguments used against Rowley to make this determination are not coming from me, they are all coming from Rowley, demonstrating, I suppose, "just how unprincipled progressives [conservatives] truly are." The fact that Rowley did not foresee this conclusion being drawn from his argument exposes the shallowness of his thinking and his need for a refresher course in irony.
Fortunately, unlike Rowley, I do not feel the need to be imprisoned by his arguments. Though he might have well made the case regarding his own dishonesty and double standards, his case against me is weak and ephemeral.
First of all, Rowley misrepresents my defense of the Brown students and the local progressive groups that shut down the Ray Kelly talk. He also misrepresents my piece taking Providence College to task for the cancellation of John Corvino's talk. Rowley's misrepresentations come fast and furious, and I will deal with some of them as best I can, but we are dealing here with a writer who layers and tangles his sentences so completely that it is sometimes difficult to know where to even begin making sense of it all.
In one misrepresentation, Rowley writes, "Ahlquist penned a column – hilariously titled 'Why We Shouldn't Listen to Ray Kelly' – that compared the Brown militants' actions to the civil disobedience of Gandhi and Martin Luther King."
The point of my piece was not to compare the protesters at Brown to the protests of Gandhi or King (a link to the article would have allowed people to easily see that for themselves, but as of this writing the one link in Rowley's piece was broken). I mentioned Gandhi and King because comments online had compared the Brown protesters unfavorably to these great civil rights leaders, intimating that Gandhi and King were at all times politely mannered and were never given to displays of uncouth behavior. I said, "There are calls for protesters to adopt the mythic patient suffering of MLK and Gandhi, who apparently never interrupted anyone to make their points," and later added that King and Gandhi were considered uncouth lawbreakers in their time by the authorities and that both served time in jail for their actions.
Later, Rowley runs a quote, "Racism is not for debate!" without attribution and which is something I never said. Bob Plain quoted the protesters at Brown as saying this in a different piece on RI Future. The quote being attributed to me in this manner is simply a lie or sloppy editing from someone who does not bother to check his sources. What I said is that the protesters, through their action, got the message they wanted to broadcast out to the world. "By being uncouth and civilly disobedient," I wrote, "Kelly's opponents got their message out: We don't tolerate racism in Rhode Island."
A careful reading of my piece would show that my defense of the protests at Brown was quite measured. To be clear, I believe that people have the right to protest, and that sometimes peaceful, non-violent civil disobedience is a powerful tool for effecting change. There is every possibility, when choosing to use such a strategy, that the authorities can move in with the police and arrest the protesters. Indeed, a recent editorial in the Providence Journal has called for the expulsion of the students involved, so perhaps some sort of legal response is still in the offing.
Brown President Christina Paxson may have had an excellent reason for choosing not to call in the police and forcibly removing the protesters: She would have been targeting people from local community groups and some students who would have borne a striking resemblance to the people most affected by the racist policing strategies championed by her guest. As much as Paxson might support the principle of academic freedom that stirred school officials to invite Kelly to speak in the first place, the Brown president was possibly loathe to initiate police actions that might appear similar to those Kelly advocates. From the media strategy point of view, Paxson made the best possible move in canceling the event, dispersing the protest and claiming victim status for academic freedom.
Civil disobedience is a protest strategy, and it carries certain risks as well as possible rewards. I certainly defend the protesters' right to engage in peaceful civil disobedience, but such actions carry the risk that the authorities will take action. Protesters recognize these risks. These kinds of actions are a roll of the dice when it comes to public opinion, and in the case of the Ray Kelly protest at Brown, I think it is fairly obvious that public opinion has been against the protesters. I also think this is unfortunate, but public opinion is fickle and difficult to control. Those in authority wrote the story on this one, and the message of the protesters was nearly lost. My piece attempted, perhaps unsuccessfully, to find the message of the protesters in the media frenzy that followed.
The difference between the Ray Kelly cancellation and the Providence College cancellation could not be more pronounced. At Providence College, the John Corvino event was canceled by the school's provost, against the wishes of the majority of students and virtually the entirety of the faculty. In the end, despite Rowley's assertions in his piece, my view of the situation was upheld by the Providence College's Faculty Senate under the leadership of Dr. Fred K Drogula when it passed a resolution that called for "the PC Administration [to] publicly apologize to Dr. Corvino" and "work to restore the academic reputation of Providence College" that was apparently damaged by the cancellation.
Rowley sees no difference between the free speech of people organizing for a cause, and the authoritarian cancellation of speech one person in power deems inappropriate. Rowley's arguments are all bluster and bullshit, unspoiled by facts, logic or nuance. Though I mentioned near the beginning of this piece that I find Rowley to be a sometimes amusing distraction, I think I've distracted enough of our time on him for now.
In the interest of full disclosure, I'm including links to Rowley's first piece on me, "The Athiest Delusion," and my response, "Atheist extremist?"
An indictment of Travis Rowley and his ridiculous rhetoric

,