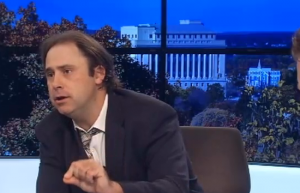 It's well worth noting that I, for one, was really looking forward to hearing Ray "Stop and Frisk" Kelly defend his deplorable practice of what he calls "proactive policing" earlier this week and I didn't get to because of the widely-reviled Shoutdown at Brown.
But I don't believe it is the only thing worth noting about the incident.
Another is there is a fairly large, very ad hoc and relatively politically-powerless coalition of activists in Rhode Island that are extremely fed up with institutionalized racism, or what has been called the new Jim Crow. Public policies like the war on drugs, proactive policing, high stakes testing and voter ID that on their face address social problems and in the process disproportionately target poor and minority populations.
I had the great but thankless honor of defending the agitators/organizers who shouted down Ray Kelly this week on NBC10 News Conference.
Watch the online-only Wingmen segment here, in which me, Bill Rappleye and my made-for-TV-arch nemesis Justin Katz debate the efficacy of such political tactics:
News, Weather and Classifieds for Southern New England
Wingmen: When is civil disobedience worthwhile?

,