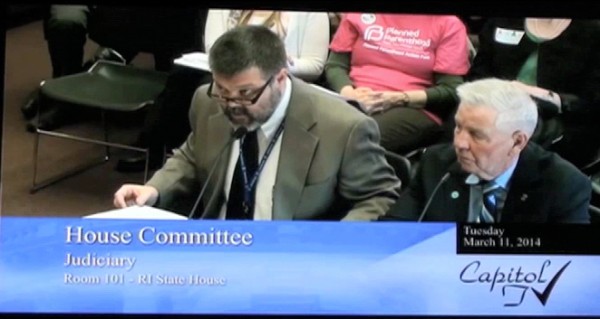 The hearings held in the State House Judiciary Committee had a slightly different format than usual.
With 12 bills on the agenda, the first 12 speaking positions were reserved for the legislators who introduced each piece of legislation. Seven of the bills introduced seek to expand women's access to reproductive services and the remaining five seek to further limit this right.
Representatives Tomasso, O'Neill, Ferri, Handy, Tanzi, Finn and Almeida were all on hand to present the legislation they introduced to support women's health care. Those introducing bills that would restrict women's access, save for Representatives Macbeth and McLaughlin, were nowhere to be found.
Representatives Palumbo, Corvese and Fellela instead chose to allow lobbyist Barth Bracy, executive director of RI's Right to Life organization, to introduce the bills for them. This does make a certain amount of sense, because it is probable that Bracy had quite a bit to do with authoring the bills these representatives put their names on, but literally could not be bothered to stand behind.
It must be easier for our state representatives to introduce bills that seek to strip away the reproductive rights of women when you don't have to look them in the eye while you do so.
)
Barth Bracy wags the dog

,