Beach closures due to polluted Narragansett Bay water is harming Warwick's summertime economy, said Mayor Scott Avedesian and several state legislators at a Save The Bay press event at Oakland Beach today. But don't take their word for it, I asked the people who actually come here and spend money:
Chris Cifelli is the general manager of the Iggy's, the West Bay's best-known clam shack that abuts Oakland Beach. He wouldn't go on camera but he told me beach closures have a significant affect on business. "There's no doubt. People don't come if the beach is closed."
He said they still get a healthy lunch and dinner crowd "but in the afternoon, when people stop in after going to the beach, we don't have that anymore."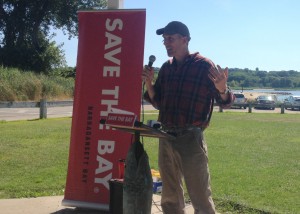 Beach closures due to heavy loads of sewer and road runoff have become commonplace in the West Bay. Warwick beaches dominate the list of most days closed due to pollution both this year and since the state began keeping records in 2000. City officials acknowledge Warwick has far too many failing suburban septic tanks.
The General Assembly this year, as in past years, failed to act on legislation that would require septic system upgrades for failing systems if and when the real estate is sold. There are more than 25,000 septic systems in Rhode Island that fail to prevent waste from leeching into groundwater and, by extension, Narragansett Bay.
But this year beach closures are no longer an isolated issue in the upper areas of Narragansett Bay. Climate change is warming our water and causing more summertime moisture all alonf the East Coast; as a result the pollution problems of the warmer, shallower, upper parts of Narragansett Bay now belong to the lower Bay too.
Narragansett and Newport, two of the Ocean State's most iconic beach towns whose reputations and economies are directly linked to the success of the summer crowd, have both experienced a record number of beach closures this summer.
Rep. Teresa Tanzi, Narragansett/South Kingstown, said the economic effect is bigger than just individual dollars not spent because of beach days missed.
"It's a loss of confidence that people have in our reputation," she said – those who vacationed in Rhode Island this year and missed a day of swimming at Bonnet Shores or Narragansett Town Beach might decide to go to Connecticut or Massachusetts beaches next year.
"It affects all of Rhode Island," she said.
This loss of confidence certainly seems to be having an effect on Oakland Beach this year. It was a perfect beach day, and the water was deemed clean, but there was almost no one swimming.