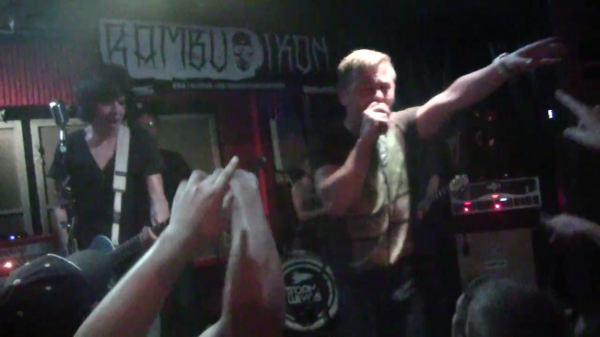 Metal music is a genre that is very rarely associated with the political world.
According to essayist Gary Sinclair, political disapproval towards metal music and similar genres is universal. For the far left the disapproval lies in the culture surrounding the genre's failure to engage in "meaningful political rhetoric." This was proven entirely wrong at KarmaKon 2013, which was held this past Saturday at Simon's 667 in Providence.
The all-day music event was put on by Rambudikon Productions and Rock Karma Promotions and was made up of bands that have become staples in the local hard rock and metal scene over the years. With Sinclair's speculations in mind I entered the dark, bar like venue curious to see if the generalization was true here in Rhode Island.
Headlining the show was the band Trophy Wives, Karmakon serving as the release show for their EP, "One Way Trip to Mars." I started my search for any inkling of a political voice with the lead singer of thefive person band, Patrick Crowley (no relation to Pat Crowley, of the NEARI).  When I asked if social or political atmosphere impacted their music, Crowley responded that
"There's not many political issues in our music, but I would definitely consider us a well educated band. We would love to do a political style of music but it's very hard to write."
The desire to pay homage to the resistance music of the late 60's was a common theme amongst the musicians at KarmaKon.  Two members of the band Sienna performed an acoustic set, a beautifully melodic interjection amongst the screams and electric guitar riffs.
Alex Beattie, Sienna's guitarist, is a political science major who had a lot to say about the state of music education is Rhode Island. "It's so important for kids to participate in music when they're growing up, with out it it's like a part of their brain is missing."
Lead singer, Viana Newton, agreed. She could serve as a poster child to the importance of a music education. A self-proclaimed "choir girl" and All-State Choir alumna from Coventry is now a rock-songstress who lights up the stage and has become well-known to those who frequent local shows.
While none of their catchy songs ("pop-rock with some spice," as Alex put it) had any blatant political commentary, by talking to the pair it became very clear that the band is very passionate and socially aware.

Sideshow is another band that has been frequenting the local music scene for quite a few years now.  I asked their lead singer, Dan Schmiedel, if social or political issues impact their impressive repertoire and his answer gave a lot of insight into the general outlook of the local scene towards the social and political atmosphere in which they operate.
"I wouldn't consider us a very political band but most of our lyrics are very introspective, or how you view a situation or experience. In itself I think that can be considered a social commentary."
He said the local music scene was "close knit, like a family. It's a small state that brings many genres and subgenres represented. It's close but expansive at the same time."
Each musician I spoke to described the scene as a very tolerant and diverse. People ranged from twenty-something with tattoos and piercings to middle-aged with shirts that would now politely be referred to as things like "retro" and "vintage." Overall, I can see how the genre and its subgenre's that were being celebrated at KarmaKon could be viewed as void of political voice; I didn't hear any lyrics about the economy or "sticking it to the man," not did I hear the audience having any politically fueled discussions. I did however come to the conclusion that these are not politically uneducated people, they just choose to express themselves through subtlety rather than blatant social commentaries.